AUTO ALARM ON MAIN STREET
09/23/09 1332hrs
Station 8 was alerted this afternoon for an automatic fire alarm at the apartments at 42 Main Street. Engine 8-3 with 4 under command of Lt Hackett and Chief 8-30 (Windows) responded. E8-3 arrived and reported nothing showing and had the crew search the building. It was determined that the alarm was malfunctioning and the scene was turned over to maintenance. All units went available.
DAYCARE VISITS THE STATION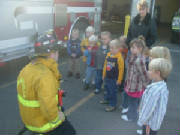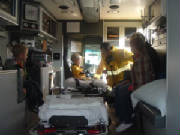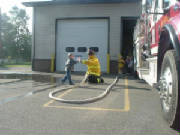 09/18/09 0900hrs
This morning Chief 8-20 (Scott) and Lt Hackett had a visit at Station 8 from Ransom's Day Care and Pre-K. The kids toured an ambulance and Engine 8-3 and were shown some of the tools used in the fire service. At the end, all the kids took turns spraying a fire hose.
LATE NIGHT ROLLOVER MVC
09/07/09 hrs
Station 8 was dispatched late this evening for a 1 vehicle rollover MVC on the Tioga River Rd in Lawrence Twp. Engine 8-2 with a crew of 3 with Chief 8-20 (Scott), Squad 8-18 with a crew of 4, Chief 8 (Strange), and Chief 8-10 (Short) all responded. Chief 8 arrived to report a vehicle rollover off the roadway with both occupants self extricated. E8-2 checked over the vehicle and C8 directed EMS up the road to his location to assess the patients.
2 AFTERNOON CALLS FOR E8-3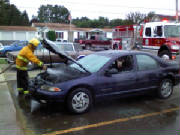 FF L. Dibble checks for extra fire.
09/07/09 1517hrs 1635hrs
This afternoon E8-3 kept busy with 2 calls. First E8-3 with a crew of 5 with Chief 8-20 (Scott) responded to assist the helicopter and Tioga Ambulance at the HMAC landing zone. The helicopter was cancelled and D-8 was recalled. The second call came just over an hour later for a vehicle fire in a parking lot on State Street. E8-3 responded with a crew of 5 with Chief 8-20 and Squad 8-18 responded with a crew of 3. E8-3 arrived a reported a working vehicle fire. The crew advanced the trash line and quickly knocked down the fire in the engine compartment. Units picked up and went available.