TWO CAR MVC WITH INJURY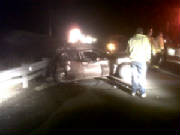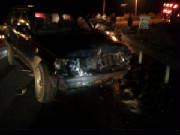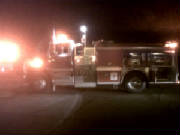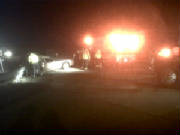 10/30/11 2121hrs
Stations 8 and 18 (Nelson) were dispatched to a two vehicle crash on Route 49 near Boom Station Road in Lawrence Township. Engine 8-2 (C810) with 3, Squad 8-18 (C830) with 4, Ambulance 8-6, Ambulance 8-7, and Chief 8-20 (Ransom) all responded. Upon arrival, units set up traffic control, secured the vehicle, and provided medical care. E18-3 arrived and assisted with traffic control. All units cleared the scene at 2227 hours.
THREE CRASHES IN A ROW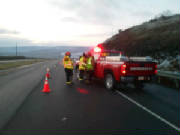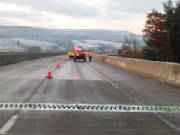 10/30/11 0646hrs, 0708hrs, 0716hrs
Station 8 was dispatched by request of Chief 7-20 (Marbaker) to assist Stations 7 (Tioga) and 2 (Mansfield) which were dispatched to Route 15 at an unknown location for the report of a vehicle crash. Engine 8-2 (C810) with 3, Squad 8-18 with 5, and Ambulance 8-6 all responded. E8-2 and Squad 8-18 were assigned to slow up traffic when the crash was found to be on the Route 15 bridge just north of Route 287. A second crash on Route 287 north of Tioga was reported by A7-16 and Engine 8-2 was released and sent to investigate with Chief 2-10 (Forrest). E8-2 arrived and removed a part of the bumper making the vehicle drivable. While on scene, 911 relayed to E8-2 of another crash on Route 15 near Route 49 in Lawrence Township. Engine 8-2 cleared and went enroute. Chief 2 (Welch) arrived just ahead of E8-2 and reported a truck and trailer on the shoulder that had struck the guide rail after hitting a patch of ice. E8-2 and C2 remained on scene to assist PSP. All D-8 units went in quarters at 0819 hours.
VEHICLE FIRE IN THE TOWNSHIP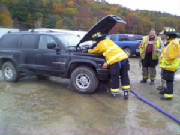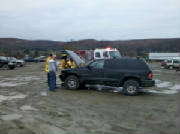 10/22/11 0735hrs
Station 8 was dispatched to the report of an SUV fire at Henkles & McCoy on Route 287 in Lawrence Township. Engine 8-3 with a crew of 5 and Chief 8 (Strange) responded. Chief 8 arrived and reported a light smoke condition from the engine compartment. Engine 8-3 arrived and put the trash line into service and extinguished the fire. All units cleared at 0817 hours.
HELO ASSIST FOR GUTHRIE AIR & A8-7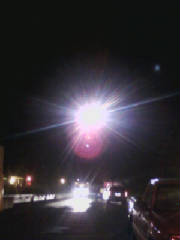 10/10/11 1915hrs
Station 8 fire units were dispatched tonight to assist Guthrie Air and Ambulance 8-7 at the HMAC Landing Zone in Lawrence Township. A8-7 was at a medical call and requested the helicopter airbourne. Squad 8-18 (C8) responded to the medical scene to assist with loading and Engine 8-3 (C810) with a crew of 4 responded to the helipad. E8-3's crew set up the landing zone and assisted with loading the patient into the helicopter. All units returned to the station at 1947 hours.
SINGLE CAR MVC - HELO ASSIST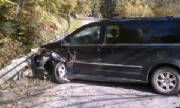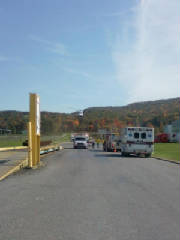 10/10/11 1131hrs
Station 8 was dispatched this morning for the report of a single vehicle crash on the East Lawrence Road in Lawrence Township. Chief 8 (Strange) and Chief 8-30 (Windows) arrived and reported the roadway blocked with two possible injuries. Station 7 (Tioga) was dispatched for an additional ambulance. Engine 8-2 (C810) and Ambulance 8-7(C860) arrived and went to work assessing and packaging the patient. Command then requested a helicopter to HMAC LZ. Ambulance 7-16 had arrived and obtained a refusal on one of the occupants. A7-16 took over Lawrenceville Command and E8-2 went enroute to the LZ. Crews set up the LZ and assisted EMS. All units cleared at 1250 hours.
DUMP TRUCK & CAR MVC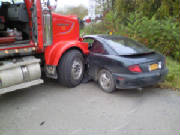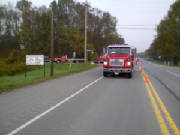 10/07/11 0801hrs
Station 8 was alerted this morning for a 2 vehicle crash with injury at the intersection of Route 287 and East Lawrence Road in the township. Engine 8-2 (C810), Ambulance 8-7 (C8-60), and Chief 8 all responded. Units arrived and discovered a dump truck had struck a passenger vehicle in the drivers side door. E8-2 setup traffic control and assisted EMS with packaging the patient. E8-2 remained on scene to assist PSP and Kens Towing before returning at 0916 hours.