2 CALLS IN A ROW FOR STATION 8
10/17/09 1931hrs; 2020hrs
Stations 8 and 7 (Tioga) were dispatched this evening to Box 8-97 in Lawrence Township at Halls Home and Lumber for an unknown type fire. Chief 8-10 (Short) and 8-20 (Scott) responded. While enroute, the chiefs were notified that a Captain from Station 2 was on scene reporting a fire behind the storage area. Lawrence Township PD and EMS Chief 8-60 (Button) were also on scene reporting a controlled burn and a recall was issued for all units. As members were still at the station, another dispatch was toned out to assist Guthrie Air at the HMAC Landing Zone in Lawrence Township. Valley Ambulance was on a medical call in Farmington Township and requested a helicopter. Engine 8-3 with a crew of 5 with C8-10 and C8-20 responded. Shortly after arrival at the LZ, E8-3 was notified that the helicopter was being cancelled. All D-8 units returned to the station for the night.
MUTUAL AID MVC - RECALL
10/14/09 0412hrs
Station 8 was alerted this morning for a 2 vehicle MVC on Route 15 in the Town of Lindley. Engine 8-2 with a crew of 3 with C8-20; Chief 8 and Chief 8-10 all responded. Upon arrival of C8, a request to recall Department 8 and slow all other responding units. It was determined that two passing tractor trailers had swiped mirrors causing debris to injure one of the drivers.
LATE NIGHT FIRE IN BOX 7-04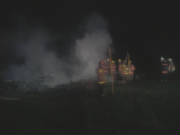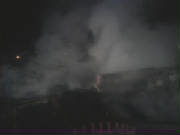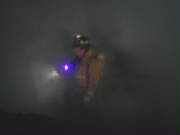 10/12/09 2245hrs
Stations 7 (Tioga) and 8 were dispatched this evening together on a 1st alarm assigment for a structure fire in Tioga Township on the Barber Hollow Road. Enroute, a second alarm was requested which called for Stations 12 (Millerton) and 13 (Daggett). Engine 8-3 responded with a crew of 5 with C8 and C820; Engine 8-2 with a crew of 3 with Capt 8; and C8-10 and C8-30 responded direct. Upon arrival of Chief 7-20 (Bates), it was reported that the structure was on the ground and to hold 2nd alarm departments in quarters. E7-2 put 2 handlines into service and the crew from 8 went to work assisting with fire suppression.
2 VEHICLE MVC IN THE TOWNSHIP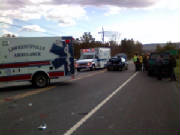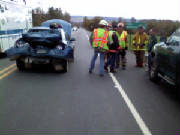 10/11/09 1321hrs
Station 8 was dispatched early this afternoon for a 2 car MVC with 3 injuries on Route 287 south of the Route 328 intersection in Lawrence Township. Engine 8-2 with a crew of 3 with Chief 8-20 (Scott) responded and Chief 8 (Strange) and Chief 8-10 (Short) responded direct. Chief 8 arrived on scene to report 2 vehicles with roadway blocked. Engine 8-2 arrived and went to work to secure the vehicles and assist EMS with packaging the patient.
MUTUAL AID BARN FIRE IN ADDISON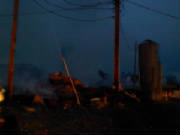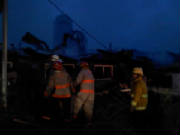 10/08/09 1819hrs
Engine 8-3 was dispatched this evening to a barn fire on the Irish Hill Road in the Town of Addison. E8-3 responded with a crew of 5 with Chief 8-20 (Scott). E8-3 was due as a tanker but also provided manpower upon arrival. The crew went to work with a handline for fire suppression and E8-3 dumped 2 loads of water before being released by Addison Command. A special thanks to Addison Station 1 for the invite.
2 MORNING CALLS FOR STATION 8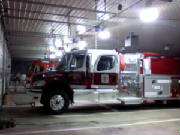 10/08/09 0519hrs, 0735hrs
Station 8 was dispatched early this morning to stand-by at Mansfield Station 2 while they were operating at a 2 alarm fire on Route 6 in Richmond Township. Engine 8-3 responded with a crew of 4 with Chief 8 (Strange) and Chief 8-20 (Scott). The crew stood by until recieving an auto text message at 0735hrs from Stueben Co 911 for a structure fire in the Town of Lindley on the River Road. Station 8 was dispatched shortly after and E8-3 responded from Station 2 as the 2nd due engine. Engine 8-2 responded with a crew of 3 under command of Capt 8 (Ransom). Lindley units arrived and reported a non-active electrical fire and requested a recall for Station 8. All units returned available.
FIRE PREVENTION WEEK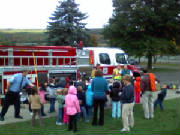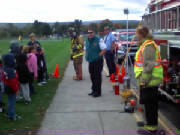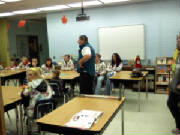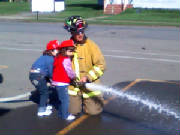 10/06-10/08
Members from Station 8 visited local educational facilities this week to present fire safety for Fire Prevention Week. On Tuesday the 6th, CUMC Daycare visited the station and was shown E83 and firefighter tools as well as fire safety talk. The kids finished up the tour with assisting FF J. Burrows with a handline flowing water. On Wednesday the 7th, Engine 8-3 went to the R.B. Walter Elementary School for presentations to the preschool program, Kindergarten, 1st, and 2nd grades. Each group received a half hour presentation on firefighting and fire safety. On Thursday the 8th, Engine 8-3 visited the Head Start program in Lawrence Twp and gave a fire safety presentation to the children. Chief Strange, Asst Chief Scott, Lt Hackett, FF Burrows, and JR FF C. Satterly all helped out with the presentations.