CHIMNEY FIRE IN LINDLEY
11/26/10 2042hrs
Station 8 was dispatched this evening to 10280 Tannery Creek Road in Lindley NY to assist at a chimney fire. Engine 8-3 and Engine 8-2 both responded. Upon arrival, crews assisted Lindley and Caton units already on scene with checking for fire extension with the TIC and cleaning out the chimney. Lawrenceville's units cleared the scene at 2200 hours.
SMOKE INVESTIGATION
11/24/10 1133hrs
Stations 8 and 7(Tioga) were dispatched late this morning for the report of smoke in the area of 220 Tremaine Road in Lawrence Township. The caller was a passerby and was unable to give an exact address. Chief 8 (Strange) and Chief 8-30 (Windows) responded direct and found the smoke to be coming from a chimney that was under construction at 217 Tremaine Rd. All units were recalled at 1146 hours.
LZ FOR GUTHRIE AIR & AMBULANCE 8-7
11/22/10 1922hrs
Station 8 was dispatched to assist Guthrie Air and Lawrenceville Ambulance 8-7 at the HMAC landing zone. A8-7 was on scene of a medical call and requested the helicopter. Engine 8-3 (C8-10) with a crew of 5, Patrol 8-4 with 2, and Chief 8-20 (Ransom) all responded. Upon arrival, crews set up the LZ and awaited the arrival. FF/EMT was the LZO. Crews assisted EMS with packaging the patient. All units returned at 2003 hours.
SQUAD ASSISTS LAWRENCE TWP PD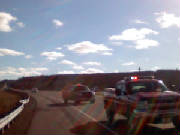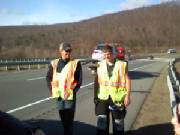 11/19/10 1230hrs
Station 8 was dispatched this afternoon for a non-emergency traffic control on Route 15 in the northbound lane. Lawrence Township PD was out investigating a one vehicle crash without injury and requested the fire department to close down 1 lane. Squad 8-18 with 2 and Chief 8-10 responded. Upon arrival, the crew set up the lane closure and awaited for the tow service while PD investigated. All units cleared at 1312 hours.
RESIDENTIAL AUTOMATIC FIRE ALARM
11/13/10 0705hrs
Stations 8 and 7(Tioga) were alerted this morning for a automatic fire alarm at a residence on Route 287 in Tioga Township. Chief 7-10(Preston) and Chief 8-60 (Rotsell) arrived and reported that a blanket had caught fire but was extinguished. E7-3 was requested to the scene for ventilation and all other units were recalled.
EARLY MVC - RECALL
11/11/10 0635hrs
Stations 8 and 12 (Millerton) were dispatched to a vehicle off the roadway on Route 328 in Jackson Township. Engine 8-2 (C810 & C820) with a crew of 3 responded and Chief 8-60 (Rotsell) responded direct. C8-60 and C12-20 arrived to report 1 vehicle off the roadway with no one around. All units were cancelled and returned at 0646 hours.
TRAFFIC CONTROL FOR SQUAD 8-18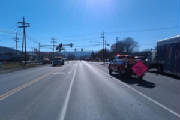 11/10/10 1002hrs
Squad 8-18 was dispatched this morning to assist Township PD with traffic control at the intersection of Route 287 and 328 in Lawrence Township. The township road crew and PD were working on the traffic signal. Due to the high level of traffic additional assistance was requested from the FD. Squad 8-18 responded with 2 to assist. Units operated on scene until 1156 hours.