ENGINE 8-3 STANDS BY AT STA 2
VEHICLE INTO POLE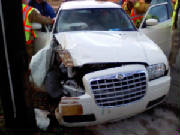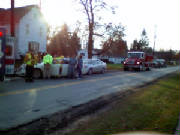 11/23/09 1509hrs
Station 8 was alerted this afternoon for a vehicle into a pole on Mechanic Street in Lawrenceville Borough. Chief 8-20 (Scott) arrived and reported a vehicle into a pole with two occupants still in the vehicle. Engine 8-2 with a crew of 3 and Chief 8-30 (Windows) also responded. E8-2s crew secured the vehicle and controlled the fluids leaking, then assisted EMS with packaging of the patients.
E8-3 ASSISTS LIFE FLIGHT 4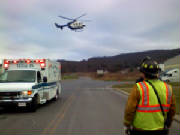 11/23/09 1230hrs
This afternoon, Station 8 was dispatched to setup a landing zone at the HMAC LZ for Lifeflight 4 and Tioga Ambulance. A7-16 was on scene of a fall victim from a roof and requested a helicopter. Engine 8-3 with Chief 8-20 responded with a crew of 4 and established the LZ. E8-3s crew assisted with "hot loading" the patient into the helicopter.
MUTUAL AID WILDFIRE
11/09/09 1644hrs
This evening Stations 18 and 14 were dispatched to the Starhigh Road in Farmington Township for a wildfire. Chief 18-10 (Adams) responded and requested an additional patrol. Station 3 (Elkland) was dispatched for P3-4. Chief 18 (Mclean) responded with E18-2 and was notified by Chief 8-20 (Scott) that heavy smoke was visable from Station 8. Chief 18 then requested a full response from Station 8. Patrol 8-4 with 2, Engine 8-3 with 4 with Chief 8-20, and Chief 8-10 (Short) all responded. Units from 18 arrived and reported a small fire with a pile of tires involved. P8-4 and E8-3 arrived and sent its manpower to assist as E8-3 pumped from a portable tank to E18-2. E8-3 then put a 1 3/4" handline into service for foam application.