THREE CALLS FOR STATION 8
05/19/10 0950hrs 1632hrs 2150hrs
Station 8 was kept busy today with three calls. The first call of the day came at 0950 hours when Medic 2 arrived at a medical call in Lawrence Township and requested a helicopter to HMAC LZ. Engine 8-3 arrived at the LZ and was notified that Guthrie Air had aborted due to weather. E8-3 returned at 1015 hours. At 1632 hours, Station 8 and 7 (Tioga) were dispatched on Box 8-04 in Lawrence Township on Mystic View Lane for a reported structure fire. Chief 8-30 (Windows) arrived and reported fire out and recalled D-7. E8-3 responded with a crew of 4 with Captain 8-10 (Hackett) to check for extension and ventilate the structure. Later in the evening, Station 8 again was dispatched to assist Guthrie Air at the HMAC LZ for Ambulance 8-6 which was at a victim of an ATV crash. Engine 8-3 with a crew of 4 with Captain 8 (Short) and Squad 8-18 with a crew of 4 responded. Medic 2 arrived and cancelled the helicopter and all units returned at 2207 hours.
WILDFIRE AND A HELO CALL
05/15/10 0107hrs 0205hrs
The crew from Station 8 were awoken this am for a reported wildfire near the Route 15/Route 49 intersection. Patrol 8-4 responded with 2 with Captain 8-10 (Hackett). P8-4 arrived to report a small controlled burn and extinguished the blaze, returning at 0133 hours. At 0205 hours, Station 8 was again alerted to the HMAC LZ to assist Guthrie Air and Valley Ambulance. Engine 8-3 responded and the crew established the LZ and assisted EMS. All units cleared at 0253 hours.
VEHICLE INTO A STRUCTURE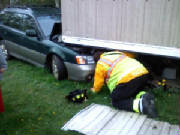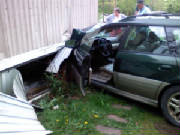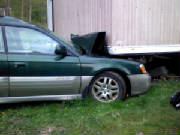 05/13/10 1647hrs
Station 8 was dispatched this afternoon for a vehicle into a residence at 77 Deer Lane in Lawrence Township. Engine 8-2 with a crew of 3 with Chief 8-10 (Scott) and Ambulance 8-6 with a crew of 4 responded. Upon arrival, it was reported as a vehicle into a mobile home with negative entrapment. The engine crew assessed the structure and vehicle while the ambulance checked over the patient. The structure foundation was not disturbed and no utilities were disrupted. All units remained on scene to assist PSP and the towing service until 1734 hours.
ALL NEW EQUIPMENT IN SERVICE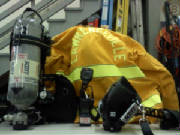 The Lawrenceville Fire Department has been fortunate to recieve the 2009 FEMA grant. With that money we had purchased a Scott Eagle 320 thermal imaging device, 13 Scott 4500 psi NXG7 SCBAs, 15 sets of Globe turnout gear, 13 Kenwood TK-2180s, and 15 Minitor V pagers. All this equipment has been recieved and is in service.
VEHICLE ROLLOVER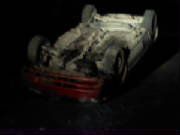 05/07/10 2139hrs
Station 8 was alerted this evening for a 1 vehicle rollover crash on the Collum Road in Lawrence Township. Chief 8-20 (Ransom), Engine 8-2 with 3, and Ambulance 8-6 responded. Chief 8-20 arrived and reported no injuries. Units remained on scene and awaited State Police until returning at 2255hours.
MOTORCYCLE & DEER CRASH
05/05/10 2019hrs
Station 8 was dispatched this evening for a motorcycle and deer crash on Route 328 in Lawrence Township. Chief 8, Chief 8-20, Engine 8-2 with a crew of 3 and Chief 8-10, Ambulance 8-6 and 8-7 all responded. C8 called on scene and notified the comm center that he had located the crash in Jackson Township and requested that 12 and Erway Ambulance dispatched. Engine 8-2 arrived and was sent to establish a landing zone just east of the incident. The helicopter was then cancelled due to an extended ETA and EMS ground transported the patient. Units cleard the scene at 2110 hours.
CRASH IN THE RAIN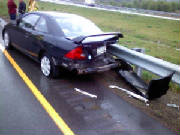 05/03/10 1006hrs
Station 8 was dispatched this morning for a vehicle crash on Route 15 southbound near the Route 49 interchange. Chief 8-10, Engine 8-2 with 3, and Ambulance 8-7 with 2 all responded. Upon the arrival of C8-10, it was reported as a vehicle off the roadway into the guardrails with the occupant out of the vehicle. The vehicle had blown a tire causing it to lose control. A8-7 arrived and assessed the patient determining no injuries and E8-2 set up traffic control. All units cleared at 1046 hours.