FIRE IN THE TOWNSHIP ON BOX 8-06
05/28/09 1108hrs
Stations 8 and 12 (Millerton) were dispatched this morning for a fire this morning in a 20' x 40' out building with smoke showing. Engine 8-3 with 5 and Engine 8-2 with 2 responded. Chief 8 (Strange) requested Engine 7-2 (Tioga) for water. Chief 8-30 (Windows) arrived and reported the structure fully involved. Both engines arrived and went to work with 2 handlines from E8-3. Chief 8-20 (Scott) took command and C8 & C8-30 went to work with operations. The fire was quickly extingushed and all 12 and 7 units were cancelled.
ACADEMIC FIELD DAY FOR E8-3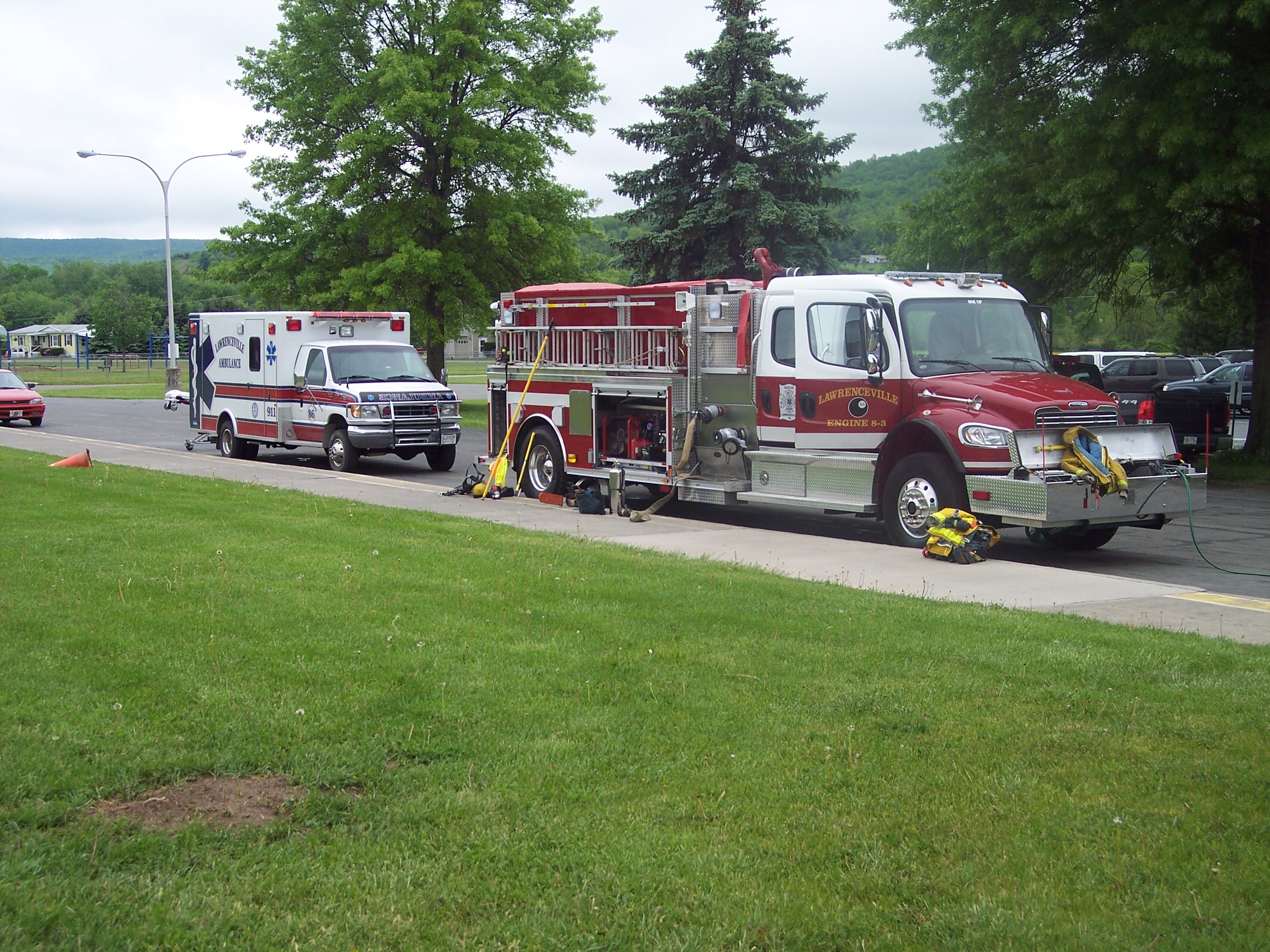 05/27/09 0830hrs
Asst Chief Scott with Lt Hackett took Engine 8-3 to the R.B. Walter Elementary School today for Academic Field Day. Organizations from all over put on 25 minute presentations for classes all day. Engine 8-3 as well as Ambulance 8-6 with EMS Chief Button and EMT Short showed off equipment from both apparatus and topped it off with demostration with the Hurst Jaws of Life and some soda cans.
SMALL GARAGE FIRE ON BOX 18-03
05/25/09 1644hrs
Stations 8 and 18 were dispatched this afternoon on Box 18-03 on the Gee Hollow Rd in Lawrence Township for a garage fire. Engine 8-3 with a crew of 5 under command of C820 (Scott), Engine 8-2 with 2, and C810 (Short) all responded. Enroute, heavy smoke was showing and Chief 18 (Mclean) requested Stations 26 (Lindley) and 7 (Tioga) for mutual aid. Upon arrival of C18 and C8-10, a small out building was found to be fully involved with no immediate exposures. E8-3 arrived and put the deck gun into service, knocked down the fire, while a handline was advanced for mop up.
VEHICLE INTO A STRUCTURE
05/21/09 0850hrs
Station 8 was alerted this morning to a possible vehicle fire on the Erickson Road in Lawrence Township. Chief 830 (Windows) reported on the radio that he recieved a call reporting the indivdual entrapted in the vehicle and it was in a structure. PD arrived and reported light smoke coming from the garage, which was under the residence. Chief 820 (Scott) and Engine 8-3 responded under command of Captain 8 (Ransom) and requested a tanker from 18 (Nelson). By-standers and PD assisted the indivdual out of the vehicle. C830 investigated and reported no fire as E83 arrived. The operator of the vehicle has pushed on the gas pedal instead of the brake and drove into the back wall of the garage. The spinning of the tires as she tried to back out caused the smoke condition.
STORMS CAUSE DAMAGE IN JACKSON TWP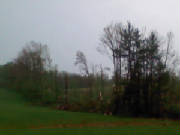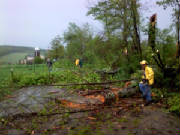 05/16/09 1722hrs
Station 8 was dispatched this afternoon for a non-emergency assist to Jackson Township with Station 12 (Millerton). They were on Skyline Drive and Fisher Road with multiple trees blocking the roadway. A heavy storm had gone through the area just prior to the dispatch. The National Weather Service had reported tornado activity in the area, but did not confirm if this incident was the result of much. Patrol 8-4 responded as well as Chief 810 and 820.
SEARCH TURNS INTO LAND RESCUE
05/01/09 2108hrs, 05/02/09 0033hrs
Station 8 EMS was dispatched this evening to assist PD with a medical on the Erickson Road in Lawrence Township. While waiting for law enforcement to arrive, the patient ran away from the residence. Chief 8 (Strange) and EMS Chief 870 (Rotsell) arrived with PD and requested a dispatch for a search for the indivdual. Members from Sta. 8 stood-by while Chief 8 coordinated activities. After searching, operations were turned over to law enforcement. At 0030hrs the next morning, Sta. 8 was alerted for a possible search off Route 49 near the Cowanesque Dam. Chief 2 (Welch) was contacted for the thermal imager. PD arrived and reported the indivdual was over the embankment and members from Station 8 went into service. Heavy Rescue 1-8 (Wellsboro) was dispatched but later cancelled. Rescue crews brought the patient from the base of the embankment to awaiting EMS.
SMALL BRUSH FIRE IN THE TOWNSHIP
05/01/09 1506hrs
Stations 8 and 12 (Millerton) were dispatched this afternoon for a wildfire on the Burrows Hollow Road in Lawrence Township. Patrol 8-4 and Engine 8-2 with Chief 820 (Scott) responded with a 5 members. Chief 810 (Short) arrived and reported a small brush fire and requested a recall of D-12. Patrol 8-4 put the booster line into service and knocked the fire down and all other crews worked by raking the fire line. Less than an acre of fire was involved.