WIRES ACROSS ROAD ON CROSS ST
03/31/12 0837hrs
Station 8 was alerted for a non emergency response for wires across the roadway on Cross Street in Lawrenceville Borough. Captain 8 (Short) arrived and reported a phone cable had been ripped down in two locations and was laying in the roadway.Squad 8-18 (C8) & Chief 830 also responded. Units removed the wire from the roadway and went available.
HELICOPTER ASSIST AT HMAC LZ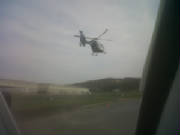 03/23/12 1307hrs
Station 8 was alerted this afternoon to setup a landing zone at HMAC for Valley Ambulance. They were on scene of a cardiac call in Osceola and requested Guthrie. Engine 8-3 (C830) with 5 responded. E8-3s crew arrived and set up the LZ and assisted EMS. E8-3 went available at 1338 hours.
WILDFIRE IN BOX 8-04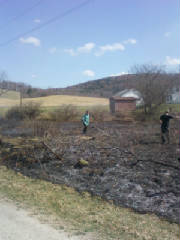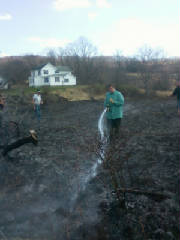 03/21/12 1330hrs
Stations 8 and 12 (Millerton) were dispatched to the Cross Road in Lawrence Township for a wildfire. Patrol 8-4 and Captain 8 (Short) responded. Captain 8 arrived and reported a small wildfire under control and requested a recall for Station 12. Units worked on scene before clearing at 1402 hours.
E8-3 ASSISTS GUTHRIE AIR & A25-7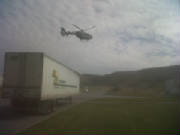 03/19/12 1125hrs
Station 8 was alerted this morning to assist Guthrie Air and Valley Ambulance 25-7 at the HMAC LZ. Engine 8-3 (C830) with 5 responded. The crew set up the LZ and assisted EMS with transfering over the patient and returned at 1201 hours.
03/18/12 2114hrs
Station 8 was dispatched to assist Lindley FD at a single car crash on the Church Creek Road in Lindley, NY. Engine 8-2 (C830) with 3 and Squad 8-18 (C810) with 4 responded. Units were recalled enroute by Lindley Command and returned to quarters at 2119 hours.
STANDBY AT STATION FOR TFD
03/17/12 1541hrs
Station 8 was alerted for a standby assignment today as Station 7 (Tioga) was out at a structure fire in Middlebury Township. Crews stoodby with both engines until 7's units became available.
MUTUAL AID STRUCTURE FIRE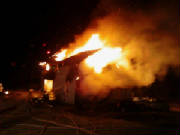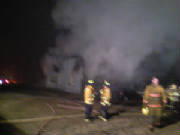 03/16/12 2157hrs
Stations 8, 12 (Millerton), and 13 (Daggett) were all dispatched to a structure fire on the Burrows Hollow Road in Jackson Township. Engine 8-3 with 5, Engine 8-2 with 3, Chief 8-10, & Chief 8-20 all responded. C12-10 arrived and reported the building to be fully involved. Station 7 was dispatched to set up a water supply at Buttons Pond. E8-3 and E8-2 arrived and dropped off their manpower and the apparatus were given tanker assignments. Units worked on scene to control the fire before clearing at 0206 hours.
Response and Arrival videos from Engine 8-3- Click Here
MULTI-ALARM FIRE IN THE WOODS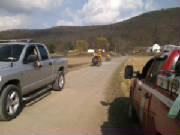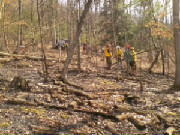 Station 8 was dispatched to the area of Heights Lane in Lawrence Township for the report of a fire in the woods behind a residence. Patrol 8-4 (Captain 8-10) and Squad 8-18 responded. Capt 8-10 (Hackett) requested Station 7 dispatched to assist. Upon arrival it was reported as a fire in the woods that was unable to be reached by fire apparatus and ATVs from Station 2 (Mansfield), 1 (Wellsboro), Gang Mills, North Corning, and South Corning. Lindley FD was also notified as well as a all call for manpower from Tioga County. Chief 7 (Preston) arrived and took command and Capt 8-10 took over operations. Once crews were able to reach the fire area, it was quickly brought under control at 1525 hours and declared out at 1537 hours. Units remained on scene for cleanup before clearing at 1626 hours.
SEARCH IN JACKSON TOWNSHIP
03/14/12 1918hrs
Station 8 was dispatched for manpower and EMS this evening to assist Stations 12 (Millerton) and 13 (Dagget) on Alder Run Rd in Jackson Township. Squad 8-18 with 4 and Ambulance 8-6 responded. Upon arrival, crews met with command for orders and was notified that the 2 juveniles were located at a nearby residence. The squad and ambulance went available at 2000 hours.
SMALL WILDFIRE IN THE TOWNSHIP
03/13/12 1841hrs
Stations 8 and 18 (Nelson) were dispatched to a reported wildfire on the Gee Hollow Road in Lawrence Township. Patrol 8-4 (Capt 8-10) responded and was notified enroute that a firefighter from Elkland was on scene reporting the fire to be out. P8-4 issued a recall for Station 18 and continued to the scene to confirm the fire was extinguished. P8-4 arrived and requested a recall for the remaining units and went available at hours.
THANK YOU TO HMAC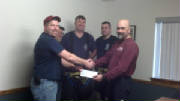 Chief Strange, EMS Chief Button, Capt Hackett, Asst Chief Scott, & Jeff Quick
03/05/12
Members of the Lawrenceville Fire Department were presented with a financial contribution by Jeff Quick of HMAC in Lawrence Township. HMAC is a team player with the emergency responders of LFD and we would like to thank them for their assistance.
ASSIST FOR GUTHRIE AIR & A8-6
03/05/12 1649hrs
Station 8 was alerted this afternoon to assist Guthrie Air and Lawrenceville Ambulance 8-6 at the HMAC LZ in Lawrence Township. Engine 8-3 (C810 & C830) and Squad 8-18 responded. Units arrived at the LZ and set up cones and awaited arrival of EMS and Guthrie Air. Crews assisted with packaging the patient for flight and went available at 1728 hours.