MUTUAL AID TO VEHICLE CRASH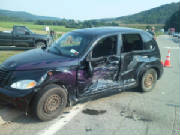 06/28/12 1705hrs
Station 8 was alerted to assist Lindley FD at a two vehicle crash at the intersection of Route 15 and Morgan Creek Rd. Engine 8-2, Squad 8-18, Ambulance 8-7, and Chief 8 all responded. Upon arrival units were notified of negative entrapment and one injury. Crews assisted on scene with traffic control. Guthrie Air was called to the scene and crews assisted EMS with loading.
NON EMERGENCY TRAFFIC CONTROL
06/27/12 hrs
Station 8 was dispatched for a non emergency response to assist with traffic control on Route 287 in Lawrence Township. It was reported that the rail crossing arms had not returned to the upward position after the train had passed. Squad 8-18 (C830), Chief 8 (Strange), and Chief 810 (Hilfiger) all responded. Units arrived and assisted with temporary traffic control until the problem was resolved.
STANDBY AND A CRASH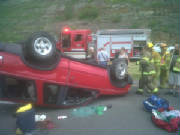 06/24/12 0724hrs & 1013hrs
Station 8 was dispatched for Engine 8-3 for a structure fire in Blossburg Borough that extended into 2 additional residences. E8-3 (C8-30) responded with a crew of 5. Enroute to the scene, E8-3 and Middlebury E11-2 were redirected to standby at Blossburg Station 4. Both engine companies stood by awaiting additional assignments. Units from 4 (Blossburg), 1 (Wellsboro), 2 (Mansfield) 7 (Tioga), 9 (Liberty), 15 (Morris), and Canton FD operated on scene. At 1013 hours, a vehicle crash on Route 15 south of the Blossburg exit was toned out. E8-3, E11-2, A7-6, A1-7, and Canton's rescue all responded. E11-2 arrived in the southbound lane and E8-3 and A7-6 took the crossover into the northbound lane. E11-2 reported a single vehicle rollover in the northbound lane.The engine companies packaged the patient for EMS transport. E11-2 cleared and E8-3 awaited on scene for PSP and the tow service. E8-3 cleared the scene and was released by Blossburg Command to return to Station 8.
Responding dash cam of the MVC.
VEHICLE CRASH OFF THE ROADWAY
06/09/12 0534hrs
Station 8 was alerted early this morning for the report of a vehicle crash with one injury. Engine 8-2 (C830) with 3, Ambulance 8-6 wth 3, and Chief 8-60 (Button) responded. C860 arrived and reported 2 vehicles off the roadway with one injury. E8-2 arrived and went to work packaging the patient. Upon further investigation, it was updated as 1 vehicle that had left the roadway striking several objects before abruptly stopping. A8-6 did the transport and fire crews remained on scene to assist the tow service and PSP.