LIFENET 7-7 AT HMAC LZ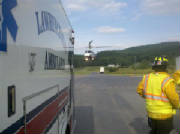 06/27/11 1737hrs
Station 8 EMS was dispatched for a patient that was enroute to the station with a neck injury. EMS Chief 8-60 (Rostell) had placed a helicopter on standby. Once the patient arrived, C8-60 requested the helicopter to land at HMAC LZ. Station 8 Fire was dispatched at 1737 hours to set up a landing zone for LifeNet 7-7. Engine 8-3 responded with a crew of 5. The LZ was set up and the engine crew assisted with loading the patient into LifeNet 7-7. All units cleared at 1808hours.
LINDLEY MVC IN THE WOODS
06/23/11 1800hrs
Station 8 was dispatched to assist Lindley Fire Department at a MVC with the vehicle off the roadway on Jackson Road in Lindley, NY. Engine 8-2 and Ambulance 8-6 responded. Enroute it was reported that the vehicle was well off the roadway and Gang Mills FD was being dispatched for their RTV. E8-2 arrived and took the stokes basket, rope, and medical supplies and reported to the staging area. The crew and equipment was then transported up a trail into a wooded area behind the residence. The patient had operated a vehicle into that area and went off the trail and a short was down an embankment. Crews from Lawrenceville, Lindley, Rural Metro, & NYSP loaded the patient and carried him out of the woods to meet with the Gang Mills RTV which transported to the ambulance. 8's units returned at 1851 hours.
TRANSFER E8-3 TO STATION 12
06/20/11 1821hrs
Engine 8-3 was toned out tonight to standby at Station 12 (Millerton) while they were out at a working fire on the Ameigh Valley Road in Wells Township.Engine 8-3 (Capt 8-10) with a crew of 5 responded. E8-3 stoodby until returning at 2042 hours.
GARBAGE CAN FIRE ON MAIN STREET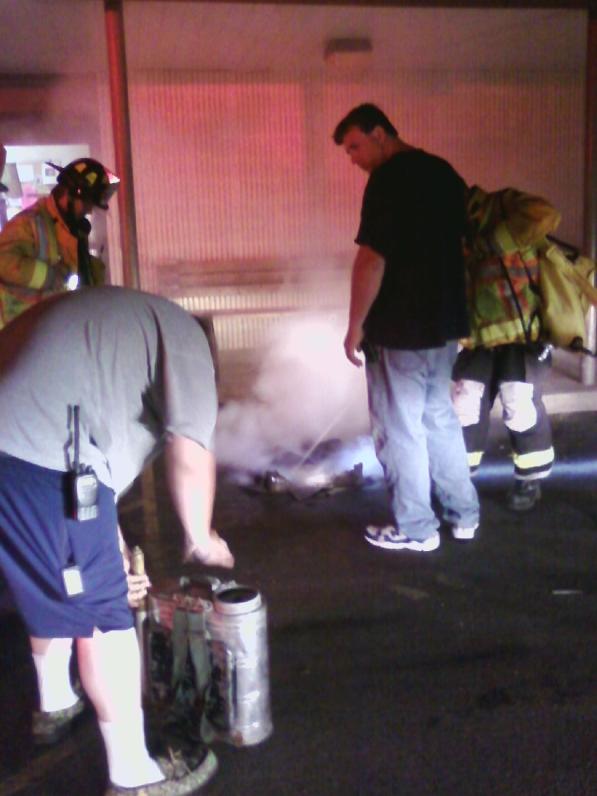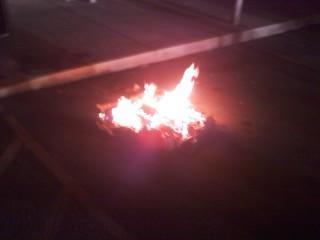 06/18/11 0133hrs
Station 8 was dispatched early this am for a rubbish fire at 64 Main Street - Prestons Market. Captain 8-10 (Hackett) arrived and reported a fire in a garbage can. Engine 8-3 (Capt 8) and Chief 8 responded. Units put portable extinguishers in sevice and put out the blaze.
2 VEHICLE CRASH ON BLISS ROAD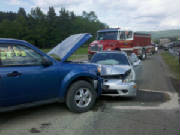 06/13/11 1519hrs
Station 8 was alerted today to a 2 vehicle crash involving a Penndot vehicle on the Bliss Road in Lawrence Township. Engine 8-2, Squad 8-18 (C8), Amb 8-6, Amb 8-7, Chief 8-20, and Chief 8-10 all responded. Upon arrival of C8-10, it was reported as 2 vehicles with the roadway partially blocked. The crash scene was located within a construction area as road crews were tar and chipping. Penndot assisted with traffic control as crews arrived and packaged patients. Stations 18 (Nelson) and 25 (Valley) were dispatched by 911 due to a mixed locations on the incident. A total of 3 patients were transported and fire crews awaited on scene to assist PSP and the towing services. Units cleared the scene at 1620 hours.
HELO ASSIST AT SOUTH OVERLOOK LZ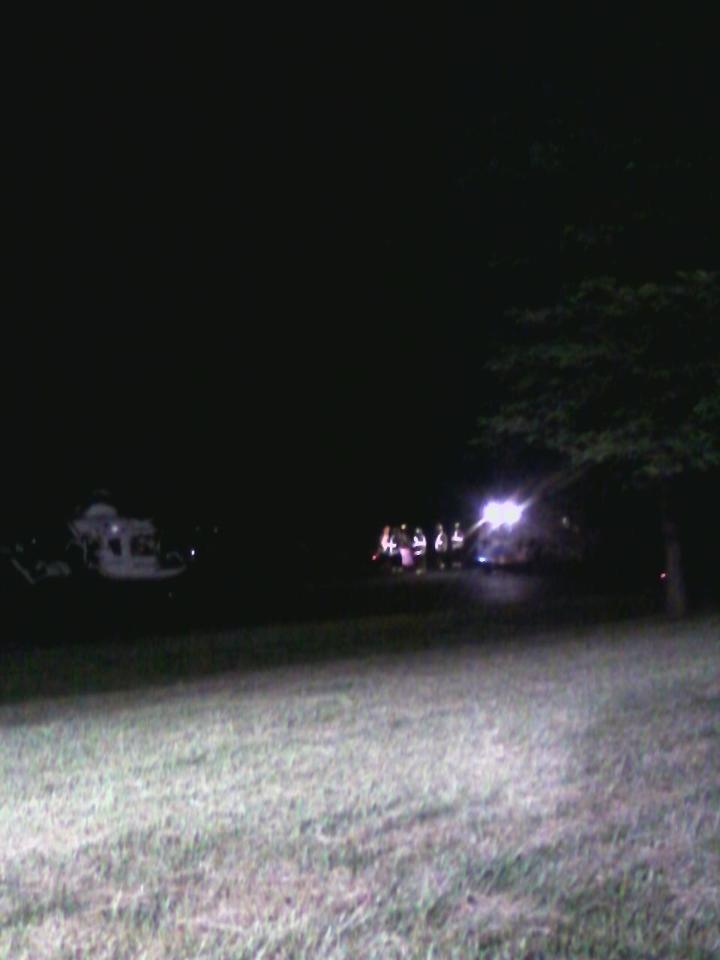 06/10/11 2336hrs
Station 8 was dispatched to assist Guthrie Air late this evening at the South Overlook Landing Zone in Lawrence Township. The patient was being transported from a crash scene on Route 49 in Nelson Township. Engine 8-3 and Squad 8-18 responded. Crews arrived and setup the landing zone and assisted ems with loading. All units cleared 0024 hours
MOTORCYCLE CRASH ON BLISS ROAD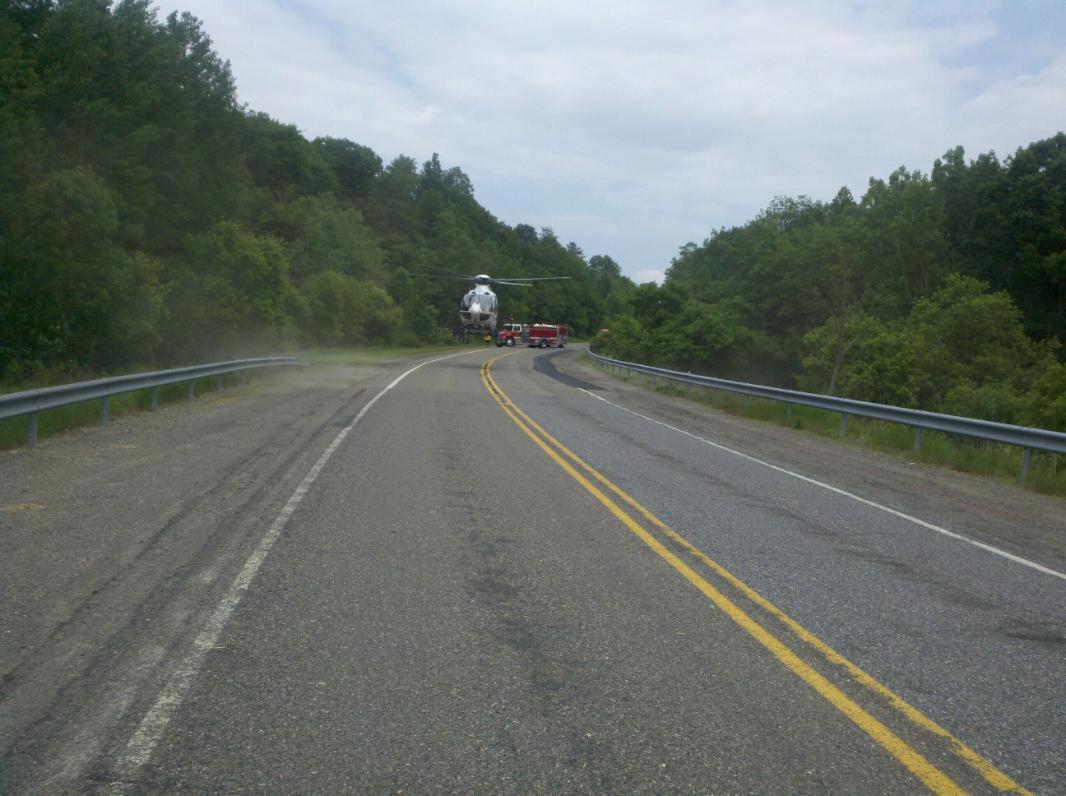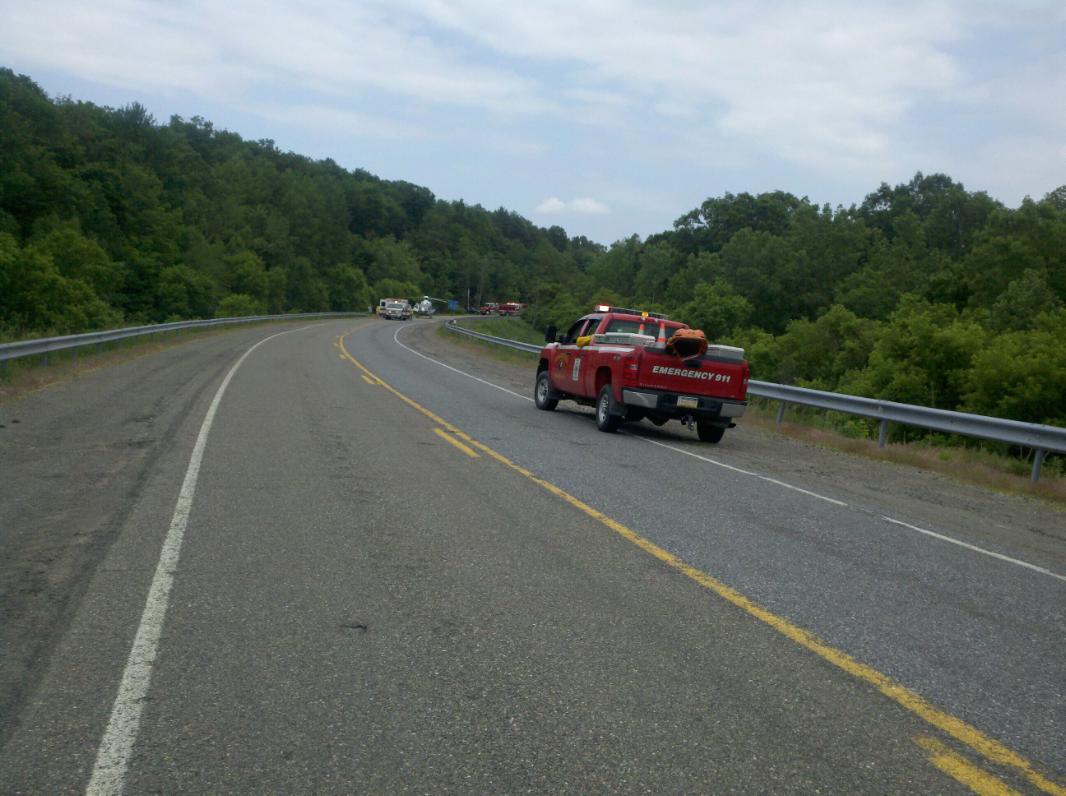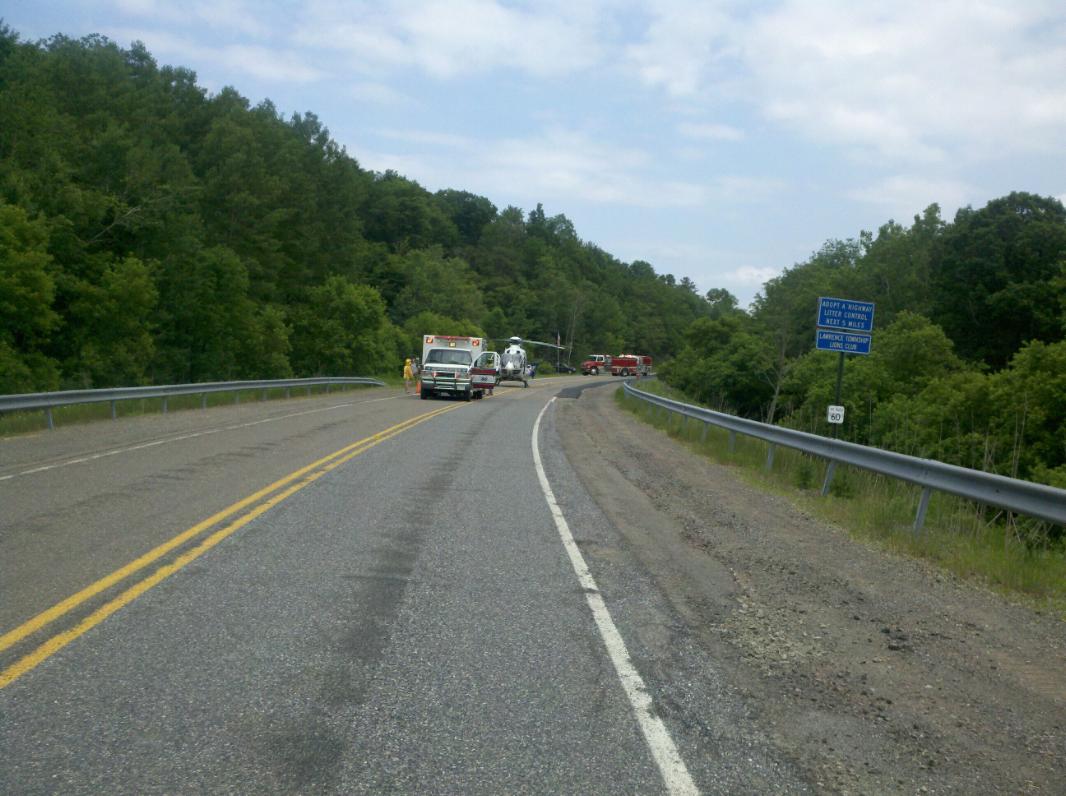 06/10/11 1427hrs
Stations 8, 18 (Nelson) were alerted for a motorcycle crash on the Bliss Road in Lawrence Township. Engine 8-2 (C810), Ambulance 8-6, Squad 8-18, Engine 8-3, and Chief 8 (Strange) responded. C8, E8-2, A8-6, and E18-3 arrived and shut down the roadway and began patient care. E8-2 dropped off its crew and equipment and C810 repositioned the engine east of the crash scene to setup a landing zone for Guthrie Air. Squad 8-18 arrived and assisted at the scene. E8-3 arrived and setup with E8-2 at the landing zone. Crews assisted with loading patient and all units cleared at 1543 hours.
WATER RESCUE AT NELSON FALLS
06/08/11 1656hrs
Stations 8, 18 (Nelson), and 25 (Valley Ambulance) were dispatched to Cowanesque Lake in the area of Nelson Falls for a water rescue. Squad 8-18 with Boat 8-28 and Engine 8-2 responded. E18-3 arrived and reported the indivdual out of the water but still requested a response from B8-28 due to the patient being on the opposite shoreline. The crew from E8-2 worked on scene with units from 18 and 25. B8-28 was unable to navigate to the west end of the lake due to shallow water and debris. The Argo (6-wheeled water/land RTV) was requested from Station 25 to be used at the inlet near the falls. All units cleared the scene at 1847 hours.
ANOTHER SINGLE VEHICLE CRASH
06/08/11 0705hrs
Station 8 was dispatched this morning with Station 26 (Lindley) to a vehicle crash on the Church Creek Road in Lindley, NY. Engine 8-2 (C8) with 3 responded. Lindley Engine 89 arrived and reported a single vehicle with one occupant, self extricated. A request for Station 8 to be recalled was issued and E8-2 returned to quarters at 0715 hours.
SINGLE VEHICLE CRASH IN LINDLEY
06/05/11 0517hrs
Station 8 was dispatched with Station 26 (Lindley) to a single vehicle crash in Lindley, NY on Route 15 in the north bound lane. Engine 8-2 responded with a crew of 3. Chief 26-01 (Hill) arrived and reported a vehicle struck a deer with no injuries. Station 8 was recalled and E8-2 returned to quarters.