NIGHTTIME HELICOPTER ASSIST
07/19/09 0045hrs
Station 8 was alerted this morning to assist Life Flight 4 and Clymer Ambulance at the HMAC Landing Zone. Chief 8 (Strange), Engine 8-3 with a crew of 5 and Chief 8-20 (Scott), and Squad 8-18 with 2 responded to establish the LZ. Clymer Ambulance along with Westfield FD were operating at a vehicle accident in Westfield Township and had requested the LZ at HMAC because ALS was responding from Corning. As LF4 flew over, command requested if they could respond closer to the scene due to a delay in transport. LF4 was redirected by Chief 8 and all unit went available.
MUTUAL AID GARAGE FIRE
07/08/09 1443hrs
Station 8 was alerted this afternoon for a full response to Lindley, NY on the Indian Hills Road for a possible garage fire. Engine 8-2 and a crew of 2 with Chief 8 (Strange) & Engine 8-3 and a crew of 4 with Lt 8 (Hackett) responded only to be recalled before arriving due to the fire being a controlled burn.
STANDBY WITH SPECIAL CALL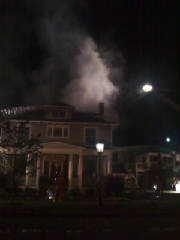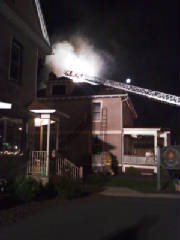 07/08/09 0353hrs
Engine 8-3 was requested this am for a stand-by at Middlebury Fire Station while they were on a mutual aid fire on Main Street in Wellsboro. Engine 8-3 responded with a crew of 5 with Chief 8-20 (Scott). E8-3 arrived at Sta 11 for about 12 minutes before getting special called for manpower to the scene. E8-3s crew went to work with some overhaul and helped pickup.
SQUAD 8-18 RUNS ALS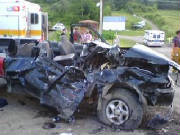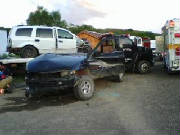 07/06/09 1857hrs
This evening, Squad 8-18 with Chief 8 (Strange), Chief 8-20 (Scott), and LT 8 (Hackett) were visiting Station 11 which was hosting the Hazmat Ops class. At the same time, Stations 16 (Clymer) and 5 (Westfield) were dispatched to a 1 vehicle MVC on Route 349, Clymer Township with 4 injuries and entrapment. Command requested multiple helicopters and ALS units. Chief Strange is also a Medic with the SSMH ALS program and contacted the comm center to notify Medic 2 that he would meet them on scene. Upon arrival C8 went to work in the ambulance and C820 & Lt 8 assisted with the extrictation. ***Chiefs note:Technically the Squad wasnt dispatched so it doesn't count as a one up***
STATION 8 & JULY 4TH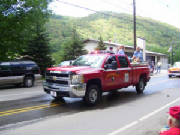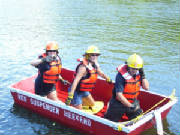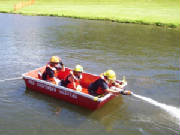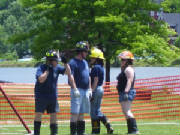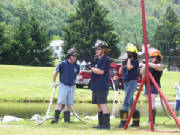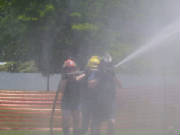 07/04/09 - All Day
Members from Station 8 particpated in July 4th activites today. Engine 8-3 and a crew of 5 went to Mansfield for the 4th of July parade. E8-3 was joined by fire apparatus from all over the county. Squad 8-18 with 7 members left first thing in the morning for Galeton's 4th of July celebration. The squad and crew participated in the parade before competing against 8 other teams in water ball, sink the boat, and tug of war challenges. 8's crew was divided into A team and B team.Combined they finished 1st in the tug of war, 2nd in sink the boat, and 3rd in water ball They finished their night watching the fireworks display before returning home.