FALSE CALL - VEHICLE FIRE
12/30/09 1634hrs
Station 8 was dispatched this afternoon for a vehicle fire at 20 Cowanesque Street in Lawrenceville Borough. Chief 8-10 (Scott) and Chief 8-60 (Button) responded to the scene. Upon arrival of C8-10, it was reported nothing showing. After investigation, it was determined that the radiator hose broke loose and caused the engine to overheat. All units were cancelled at 1639 hours.
MUTUAL AID WITH E8-3 TO CATON
12/26/09 1124hrs
This afternoon Engine 8-3 was special called for a structure fire on the Browntown Road in the Town of Caton, NY. Engine 8-3 responded with a crew of 5 with Chief 8-10 (Scott) and C8-20 (Ransom). The original call had Caton, South Corning, and Lindley Fire Departments responding for a possible structure fire and E8-3 was added. While responding E8-3 was recalled and went back into service at 1138 hours.
VEHICLE CRASH ON XMAS EVE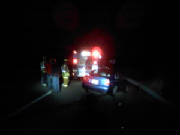 12/24/09 1740hrs
T'was the night before Christmas and all through the firehouse, not a pager was talking....until Chief 47 (Ulysses, Hunt) came upon a 1 vehicle crash with possibly 2 injuries on Route 49. C47 was unsure of his location and Stations 18 (Nelson) and 25 (Valley Amb) were dispatched. Chief 8-10 (Scott) heard the radio report by C47 and advised 911 that this was within Lawrence Township. E8-2 with a crew of 3, Chief 8-20 (Ransom), and Chief 8-10 (Scott) all responded. Ambulance 8-6 and 8-7 also responded. Upon the arrival of C8-10, it was reported as a vehicle off the roadway and possibly 2 patient refusals. E8-2 arrived and set up traffic control and secured the vehicle and EMS checked out the patients. All units cleared at 1901 hrs.
STATION 8 OFFICERS FOR 2010
12/21/09
The new officers for the 2010 year have been passed at tonights meeting. Chief Strange is in the middle of his two year term and was not elected upon. Chief 8-10 is now Robert Scott, Chief 8-20 is now Ray Ransom, and Chief Windows has been reappointed as Chief 8-30. Retired Assistant Chief Tim Short has been appointed to Fire Captain 8-10. On the Administrative side, Brad Hackett remains as President, Lynn Kilmer is now Vice President, Judy Thomas will serve as the Treasurer, and April Ransom will take over as Secretary.
EARLY AM HELICOPTER ASSIST
12/20/09 0126hrs
Engine 8-3 was dispatched early this am to assist Guthrie Air at the intersection of Route 287 and Mitchell Creek Road in Tioga Township. Station 7 (Tioga) was operating on a vehicle accident with ejection on the Mitchell Creek Rd. Engine 8-3 with a crew of 5 and Chief 8-10 (Short) responded. The landing zone was established in a field and the crew assisted with loading the patient.
BUILDING FIRE - BOX 8-04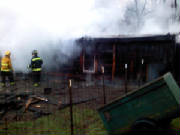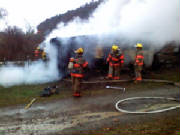 12/15/09 1546hrs
Stations 8 and 7 (Tioga) were alerted this afternoon for a building fire in Box Alarm 8-04, 1952 Buckwheat Hollow Road in Lawrence Township. Engine 8-3 with a crew of 5 with Chief 8-20 (Scott), Engine 8-2 with a crew of 2, and Chief 8-30 (Windows) all responded. Chief 8-30 arrived and reported the building fully involved. E8-3 arrived and pulled passed the building and advanced a handline and knocked the fire down with the deck gun. E8-2 arrived and stayed on the upper part of the driveway due to a hazard with the electrical wires. A 2nd handline from E8-2 was pulled to help with fire control. E7-3 arrived and their crew went to work. Lindley was then requested for Tanker 29. E7-3 and T29 supplied E8-2. Lawrenceville Ambulance 8-6 with EMS Chief 8-60 (Button) stood by on scene. All units cleared at 1726hrs.
CHRISTMAS PARADE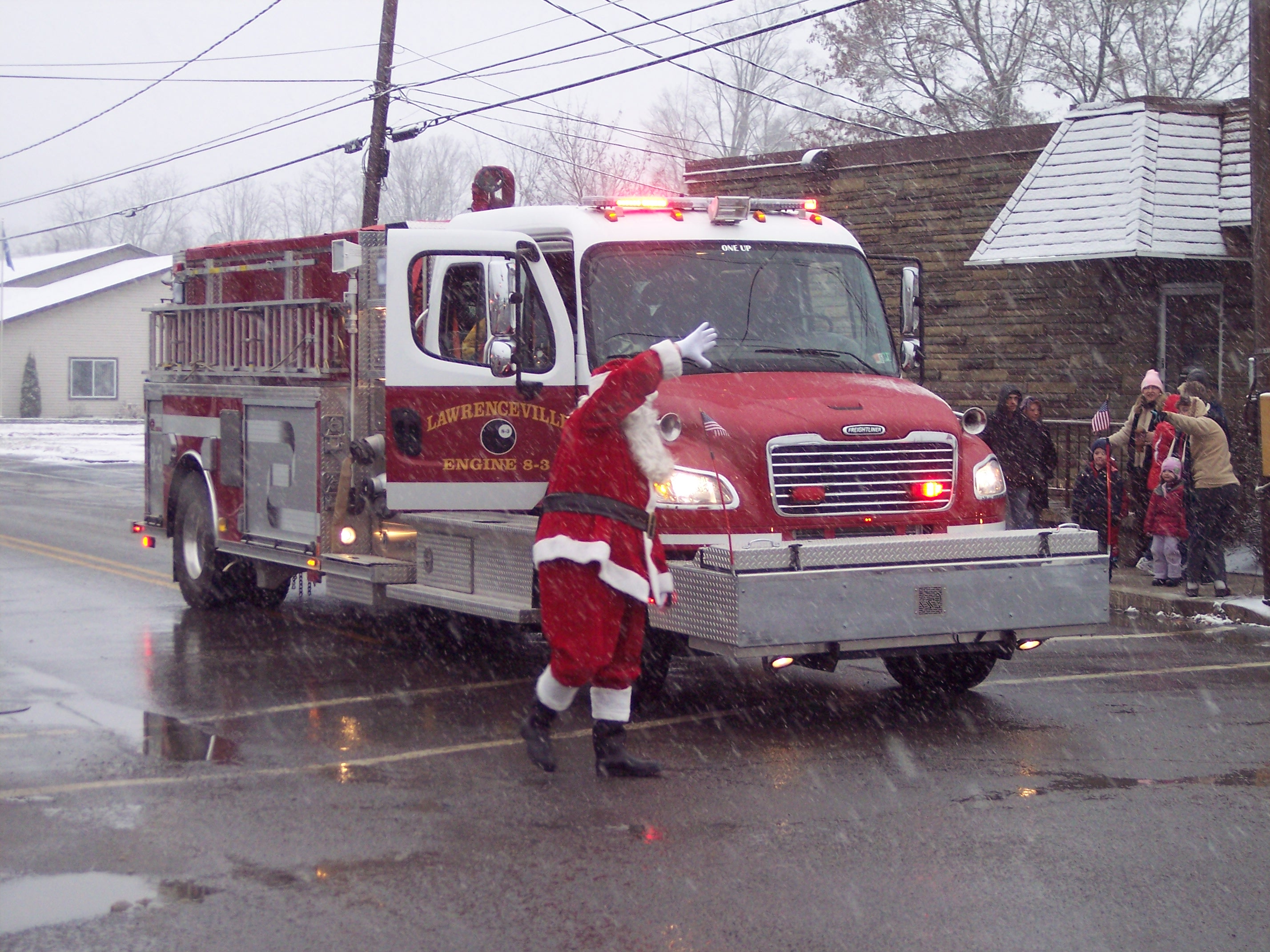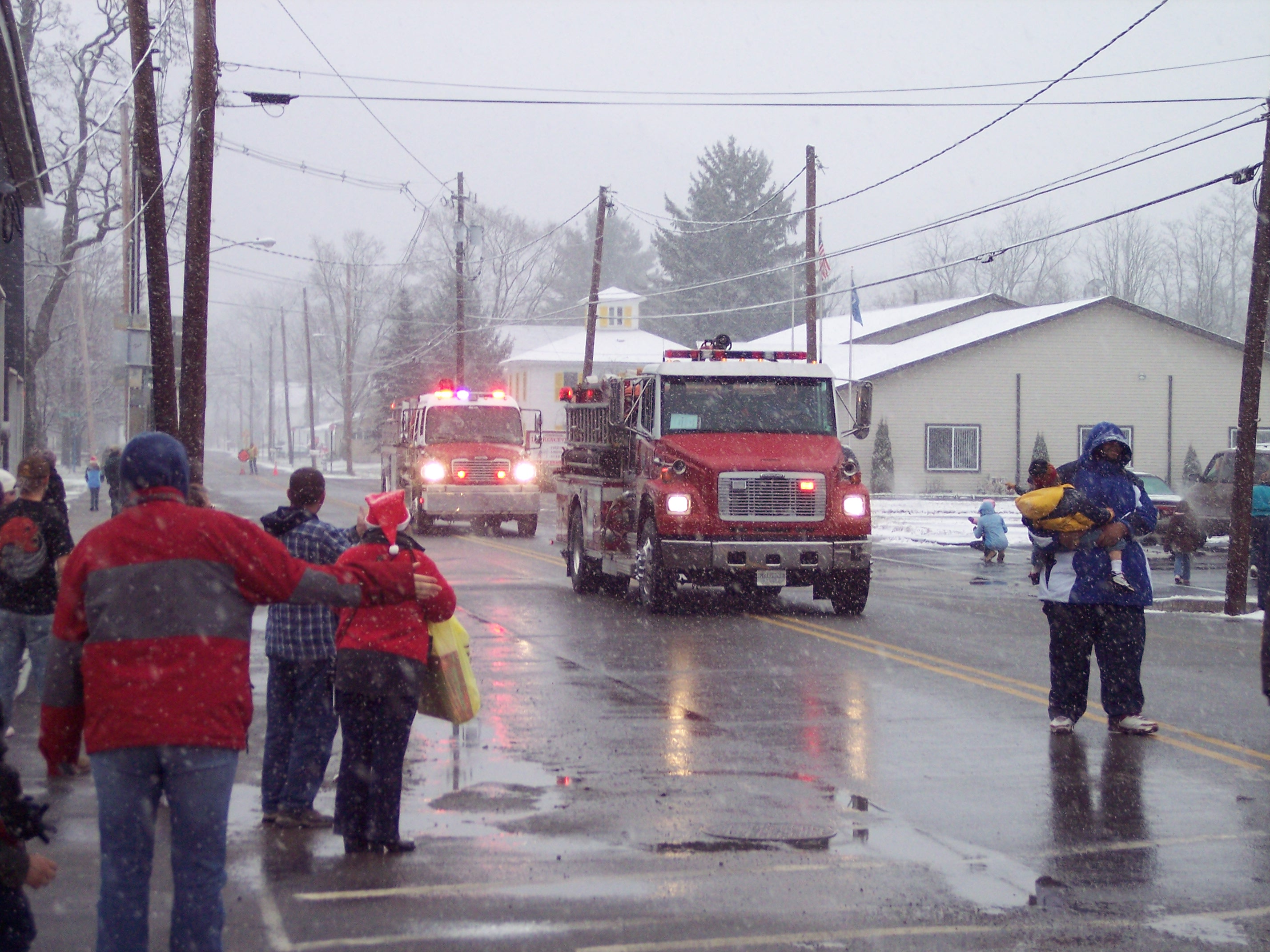 12/05/09 1500hrs
The crew from Station 8 helped transport a jolly 'ol fella today in the first annual Lawrenceville Christmas parade. Engine 8-2 and Engine 8-3 participated as Santa rode officer in E83.