SINGLE VEHICLE ROLLOVER ON RTE 49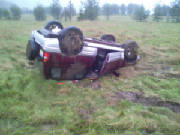 04/26/12 1851hrs
Station 8 units had just called in quarters from a previous MVC when the tones went off for a vehicle crash at the intersection of Route 49 and Boom Station Road in Lawrence Town-ship. A report of a vehicle rollover off the roadway was given. Engine 8-2, Squad 8-18, Ambulance 8-7, & Chief 8-20 (Ransom) called enroute. C8-20 arrived an scene and reported 1 BLS injury with the roadway open. Units arrived and assisted with packaging the self extricated patient. Fire apparatus remained on scene to assist Wheelers Towing and PSP until clearing at 1935 hours.
2 VEHICLES WITH MULTIPLE INJURIES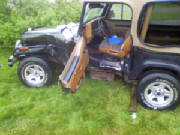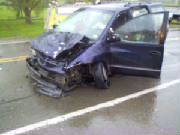 04/26/12 1649hrs
Stations 18 (Nelson), 25 (Valley Amb), and 8 were all dispatched to a vehicle crash on Route 49 in Nelson Township with multiple injuries. Engine 8-2, Squad 8-18, Ambulance 8-7, and Chief 8-20 all responded. Chief 18 arrived and requested Station 8 respond with ambulances and rescue with the report possible entrapment. A total of 6 patients were reported and additional ambulances from Stations 11 (Middlebury), 7 (Tioga), & 16 (Clymer) were dispatched. Units from 8 arrived and began patient removal from the vehicles and packaging for EMS. Units remained on scene to assist and called in quarters at 1850 hours.
MULTIPLE TREES DOWN DUE TO SNOW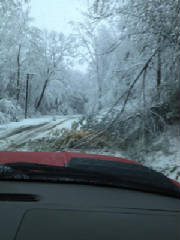 04/23/12 0516hrs
Station 8 was alerted for a non-emergency response on the Buckwheat Hollow Road in Lawrence Township for the report of a tree in the roadway. A heavy wet snow covered the county overnight causing trees and powerlines to come down throughout the eastern part of the county. Squad 8-18 (C810), Patrol 8-4 (Capt 8-10), and Chief 8-20 all responded. Units were updated to check other areas as additional reports were being received for trees down. Units cleared the roadway at Buckwheat Hollow Road and discoved additional trees down enroute back to the station and worked to clear the roadway. All units went available at 0653 hours.
ASSIST AT STRUCTURE FIRE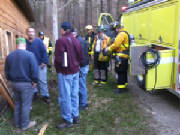 04/14/12 0659hrs
Station 8 was alerted to a structure fire with Lindley and Gang Mills FD on Ryers Creek Road in Lindley, NY. The report was of a fire near the bas-ement wall. Engine 8-3 (C830) with 5, Engine 8-2 with 2, Ambulance 8-7 (C860), & Chief 8 all responded. Chief 8 arrived and requested E8-3 check the structure for extension with the imager. An small fire was found on the exterior of the residence along the wall. Crews were able to extinguish with a water can. Units remained on scene before returning at 0736 hours.
PATROL & SQUAD TO TUSCARORA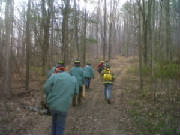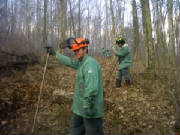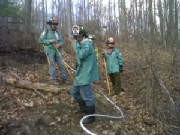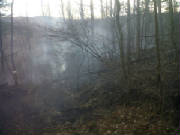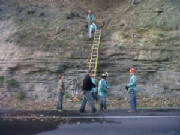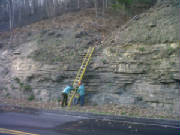 04/09/12 1653hrs
Station 8 was dispatched today for a brush truck and manpower due for a wildfire on Route 417 in Tuscarora, NY. Multiple units from Stueben County were operating on scene as well as units from Tioga County Stations 14 (Osceola) and 3 (Elkland). Patrol 8-4 with 2 and Squad 8-18 with 5 responded. Upon arrival, Patrol 8-4 was sent to a staging area with other brush units in the woods and Squad 8-18 was held on the road. All manpower met at the staging area. 8's crew was assigned to work under the direction of a forest ranger and worked to clear the east side fire line. All Station 8 units cleared at 1948 hours.
MUTUAL AID WILDFIRE IN CATON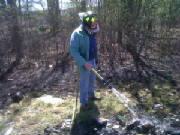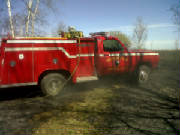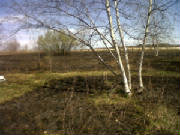 04/08/12 1311hrs
Station 8 was alerted this afternoon to assist Caton Fire Department at the scene of a wildfire on Kelly Hill Road in Caton, NY. Patrol 8-4 (C810) and Squad 8-18 (C830) responded. Units arrived and went to work spraying the perimeter with Caton and Webbs Mills units. 8's crew worked on scene and returned at 1438 hours.
ENGINE 8-3 TRANSFERS TO STATION 2
04/05/12 0221hrs
Station 8 was alerted early this morning for a transfer assignment to standby at Station 2 (Mansfield) while they were operating on a structure fire in Covington Township with Stations 4 (Blossburg), 1 (Wellsboro) and 9 (Liberty). Engine 8-3 with a crew of 4 responded. E8-3 stoodby until being released and returning at 0435 hours.