2 ALARM WORKING HOUSE FIRE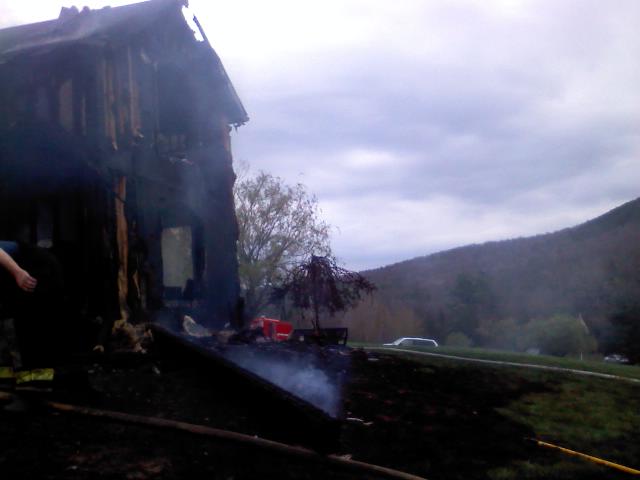 04/30/09 1451hrs
Station 8 and 18 (Nelson) were dispatched today to a possible house fire in Lawrence Township on the Gee Hollow Road. Upon arrival of Chief 8-10 (Short), it was reported as an active fire in the a-side of the structure. Additional help was then requested from departments 7 (Tioga), 26 (Lindley), and 3 (Elkland). Chief 8 (Strange) arrived and reported a two story structure with heavy fire and requested the first in engine, which was Engine 8-3 with a crew of 4 with Chief 8-20 (Scott) to attack the fire with the deck gun then make an interior attack from the rear entrance. With E8-3's 2000 gallons, they were able to comfortably flow approximately 1000 gallons through the deck gun to provide an initial knock down and enable the interior crew led by Lt Hackett to knock down the remaining bulk of the fire. As this was taking place, Engine 8-2 with a crew of 3 with Chief 8-30 (Windows) positioned behind the structure using the other driveway and deploying two handlines for further fire control in the second story. Engine 7-3 arrived and had its manpower go to work with the crews from 8. Engine 3-2 arrived and assisted with exterior operations and Lindley set up water supply just up the road from the incident. Tankers from 7, 26, and 3 shuttled water from the fill site.
4 CALLS KEEP D8 BUSY
04/27/09 1120hrs, 1550hrs 1617hrs, 1822hrs
Firefighters from Station 8 were on the go all day with Engine 8-3 running across the county for fires. The day started with a standby at Wellsboro Station 1 while they were operating at a working structure fire in Antrim. Later on in the afternoon Patrol 8-4 was requested for a mutual aid wildfire in the Lambs Creek Recreational Area, Richmond Township with Mansfield Station 2. P8-4 was recalled shortly after responding but the crew didnt get much of a break. Only a few minutes after being in quarters, Station 8 was dispatched for Engine 8-3 for a mutual aid barn fire the Smith Road in Richmond Township. Chief 2 (Welch) arrived and reported the building on the ground and requested E8-3 standby at Tioga Station 7. E8-3 stood by for a while and then returned to quarters. Just a short while later, again, Engine 8-3 was special requested to standby at Nelson Station 18 while they were on a working fire in Elkland but was moved up to Elkland Station 3 for standby. Engine 8-3 stood by for a few hours and made it back home before 2200 hours. A long day was had by all responders throughout the county with 3 structure fires and multiple wildfires.
WATER SUPPLY TRAINING FOR D8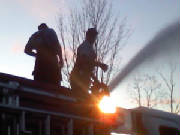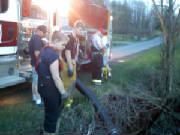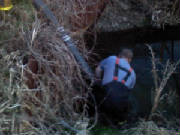 04/27/09 1900hrs
Tonights training was presented by Chief Strange as a review of our rural water supply locations throughout the township. Nine members with Engine 8-3 and Squad 8-18 went out and participated by finding the water supply locations on the Cross Road and Buckwheat Hollow Road and establishing a fill site with E8-3.
2 STANDBY'S FOR E8-3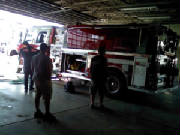 04/26/09 1700hrs
04/26/09 1908hrs
Engine 8-3 did double duty today with standby assignments. Department 1 (Wellsboro) was dispatched on a 2-alarm wildfire this afternoon and E8-3 was requested to standby at Station 1 while they were out working. E8-3 under command of C8 (Strange) with crew of 5 responded to assist. Later when all D-1's apparatus was all back to the station and E8-3 had just went returning, D-1 was dispatched again to another wildfire. Chief 1-30 (Hastings) went responding and requested E8-3 return to Station 1. The crew was happy to standby until WFD went back in service at 2109hrs.
COUNTY ALL CALL FOR WILDFIRE
04/25/09 2007hrs
A county all call was put out this evening for any available manpower, brush units and ATVs to assist in Shippen Township at Station 1's wildfire / forest fire. The original dispatch went out at 1715hrs for D-1 (Wellsboro) and D-10(Galeton). The original report from a spotter plane was approximately 25 acres. Mutual aid was dispatched from 19 (Germaina) and 16 (Clymer) with department 17 (Chatham) being dispatched later. Among the units responding to the all call included Westfield P5-4, Elkland P3-4, Mansfield P2-4 & Rescue 2-8, and Squad 8-18. S8-18 responded with Chief 8-10 (Short) and a crew of 8. The units were sent to a staging location and then sent to the fire line to work with the rest of the group.
04/25/09 0736hrs
Station 8 was dispatched this morning for a mutual aid MVC on the Stowell Road in the Town of Lindley. It was reported as a 1 vehicle rollover with minor entrapment. Engine 8-2 with Chief 820 (Scott), Chief 8 (Strange), and Chief 810 (Short) responded. Upon arrival of Chief 8 it was reported as a vehicle on its roof with one occupant still in the vehicle. Lindley units went to work with extrication and had the patient out just as E82 arrived.
DRIVER ESCAPES INJURY IN AM MVC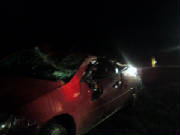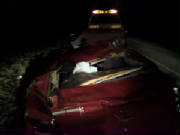 04/24/09 0313hrs
Station 8 and 18 (Nelson) were dispatched early this morning for a one car rollover MVC. The comm center radioed a second report of no injuries and driver was out of vehicle. Chief 8-10 (Short) responded and requested a recall of 18 based on that information and had all D-8 units continue in non-emergency.
YET ANOTHER WILDFIRE
04/19/09 1313hrs
Station 8 was dispatched this afternoon for Patrol 8-4 mutual aid to Lindley for a wildfire. With the squad standing by and P8-4 just responding, the recall was issued and all units returned to quarters.
ANOTHER AFTERNOON WILDFIRE
04/17/09 1544hrs
Stations 8 and 18 (Nelson) were dispatched this afternoon to a reported wildfire on the Bliss Road in Lawrence Township. Patrol 8-4 with 3and Engine 8-3 with a crew of 5 and Chief 8-10 as well as Patrol 18-4 responded. Upon arrival of both brush units, Patrol 8-4 under command of Lt 8 (Hackett) reported a small fire and they would be able to handle with apparatus on scene. Units quickly extinguished the small fire and went available.
6 ACRE WILDFIRE IN THE WOODS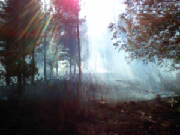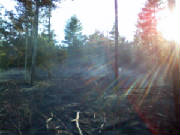 04/16/09 1530hrs
Station 8 had their hands full this afternoon. Chief 8 was paged to investigate a smoke condition on the west side of US Route 15 on the hill in the area of the Water Tower Road. Chief 8 (Strange) arrived and reported a 5-6 acre wildfire into the wooded area and requested a reponse from 8, 7 (Tioga), 18 (Nelson), 26 (Lindley, NY), and the Forestry Department. Patrol 8-4, Engine 8-2, and Squad 8-18 all responded from D-8. Upon arrival Chief 8-10 (Short) was assessing the east side and Chief 8-20 (Scott) was sent to the south side. Both 8-10 and 8-20 agreed and called Chief 8 who had command and requested additional resources due to a fast moving fire with the wind picking up. At this point departments 11 (Middlebury) and 2 (Mansfield) were dispatched. With lots of manpower with indian tanks and rakes and brush trucks stretching lines as much as 400 feet into the woods, the fire was brought under control and held to 6 acres. Geographically to the south and east a steep cliff going down towards US Route 15 helped contain the fire. All units returned at 1936 hours.
ENGINE 8-3 ASSISTS LIFE FLIGHT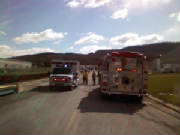 04/12/09 0929hrs
Engine 8-3 with Chief 8-20 with a crew of 5 and Chief 8-10 responded this morning to assist Life Flight 4 and Valley Ambulance at the HMAC LZ in the Township. Valley Ambulance with SSMH Medic 1 requested the helicopter to transport a patient that was involved in an MVC in Knoxville. E8-3's crew assisted with packaging the patient and "hot loading" Life Flight.
NIGHTIME HELICOPTER ASSIST
04/09/09 2236hrs
Engine 8-3 responded tonight to set up a landing zone for Guthrie Air at the HMAC. SSMH Medic 1 requested the helicopter upon responding. E8-3 and Chief 8-20 (Scott) responded with a crew of 4 and Chief 8-10 (Short) responded direct and established LZO. Valley Ambulance 25-7 with M-1 recalled the helicopter and ground transported to SSMH.
LADDER TRAINING FOR D8/D7
04/06/09 1930hrs
Members from departments 8 and 7 got together tonight at the newly acquired training structure in Lawrence Township for a review of ladder and ventilation training. A group of approximately 20 firefighters was instructed by Chief 8-20 (Scott) on proper operation of ladder and setting up for vertical ventilation.
TRAFFIC CONTROL IN THE TOWNSHIP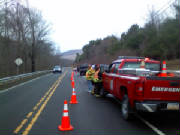 04/06/09 1052hrs
Squad 8-18 with a crew of 4 led by Chief 8-20 (Scott) responded this morning to a traffic control call on Route 328 in Lawrence Township. Upon arrival it was discoved that the tire had fallen off a vehicle while driving down the roadway causing the vehicle to become disabled and block the roadway. The squad set up traffic control and awaited for the towing service and state police.
04/04/09 1246hrs
Station 8 and 14 (Osceola) was alerted for a 2nd alarm structure fire on Box 18-08 in Nelson Township on Route 49 just after noon today. Departments 18 (Nelson), 3 (Elkland), and 25 (Valley Ambulance) were already on the road from the 1st alarm dispatch. Engine 8-3 under command of Lt 8 (Hackett) with a crew of 5 and Chief 8-10 (Short) responded. As units arrived, the fire was quickly extinguished and the 2nd alarm was recalled.
04/02/09 2017hrs
Station 8 was called to assist at a wildfire in Tioga Township at the intersection of Smith Hill Road and Mann Hill Road. Departments 7 & 18 were already operating on the scene. P8-4 with Chief 8 (Strange), Squad 8-18 with Chief 8-20 (Scott), and Chief 8-10 (Short) responded with a total of 9 members. Patrol 8-4 arrived and was put to work in the field mopping up hot spots. The squad stood by on the road with crew and was released when the fire was declared out. P8-4 ran into a few mechanical problems and had to be nursed home until our mechanical friends were able to help us out to get the old girl back in service.