Rescue 8-8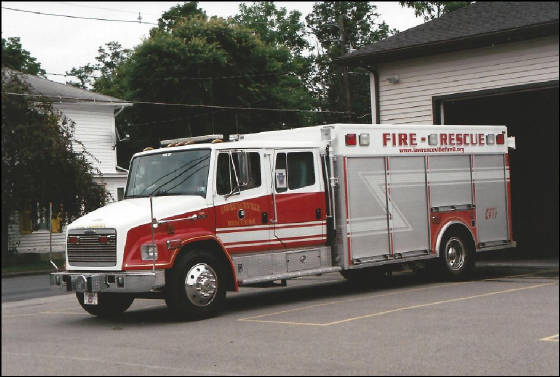 Rescue 8-8 (The Toolbox) is a 1997 PL Customs Rescue that was purchased from the Hilltown Township FD in 2013. R8-8 is capable of transporting a crew of 5 and any equipment necessary to get over, under, around, or through most any obstacle that we may encounter. The rescue is equipped with hydraulic rescue tools that include a 32" Hurst spreader, Hurst cutters, a Hurst combination tool, and 3 hydraulic rams. It also has a 10 gallon portable compressed air foam unit, (2) air struts, (3) airbags, high lift jacks, (2) reciprocating saws, a portable hydraulic pump, multiple sizes of cribbing, stokes basket, little-giant ladder, rescue rope and harnesses, hazmat supplies, (5) SCBA, firefighting tools, ventilation fan, portable generator, medical bags, AED, and other small extrication tools. Mounted on the rescue body roof is a 6-head telescopic light tower. Rescue 8-8 is primary for all MVC and rescue related calls with Squad 8-18 as a supplement vehicle.
Engine 8-2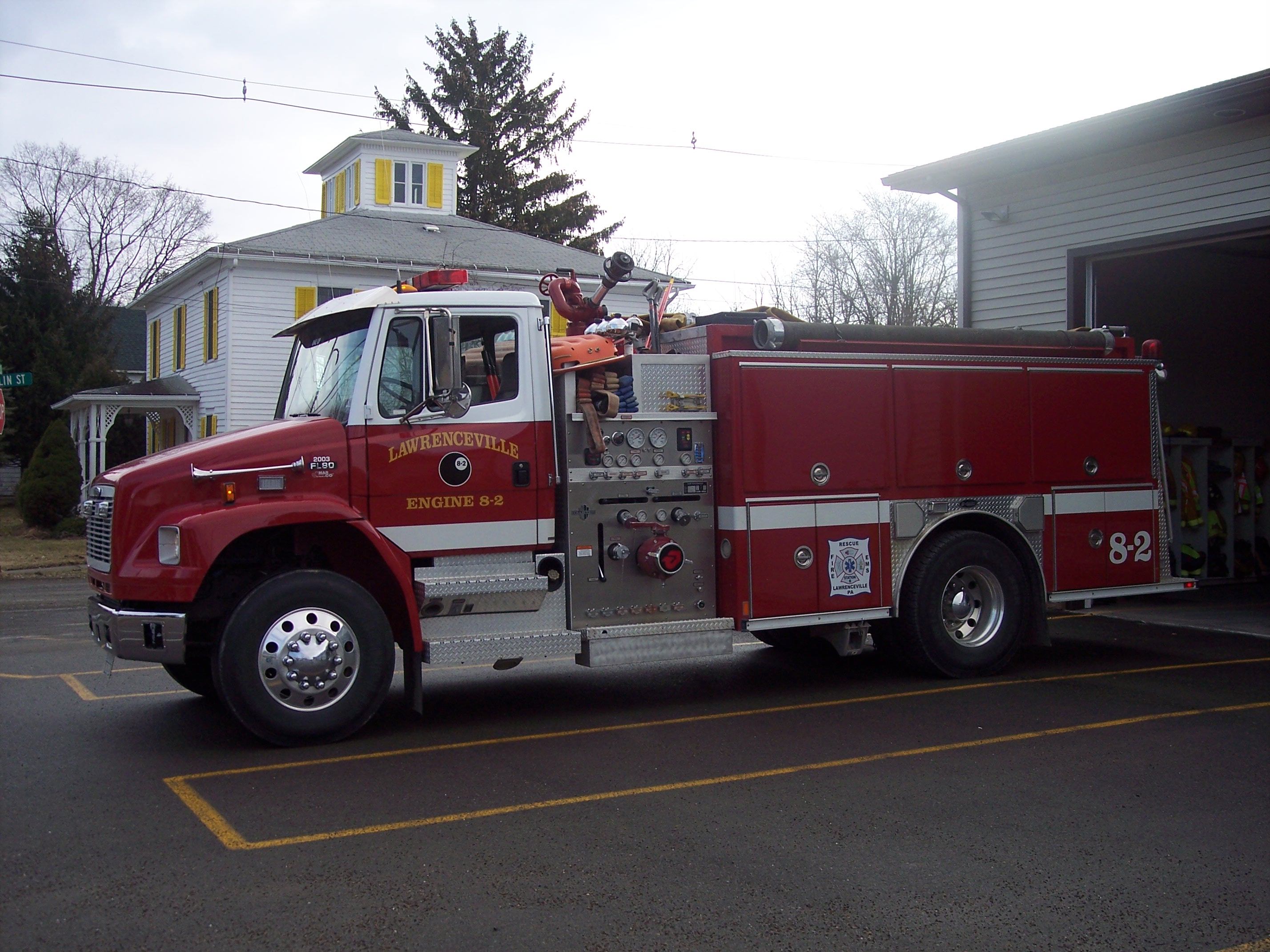 Engine 8-2 is a 2003 E-One Pumper that was purchased from Marco Fire Equipment in 2005. Engine 8-2 is set up as a pumper/tanker and is 2nd due on building fires and wild fires. It has a 1250 gpm pump and 1250 gallons of water. Hose carried on board is 1075' of 5" supply line, (2) 200' 1.75" crosslays, 100' 1.75" trashline, 250' 2.5" attack line, and 200' of 2.5" supply line. The engine has (2) SCBA's, a full compliment of firefighting tools, wild land firefighting tools, and a 500 gpm portable pump. E8-2 was previously setup as the rescue engine and reorganized upon the purchase of R8-8 in 2013.
Engine 8-3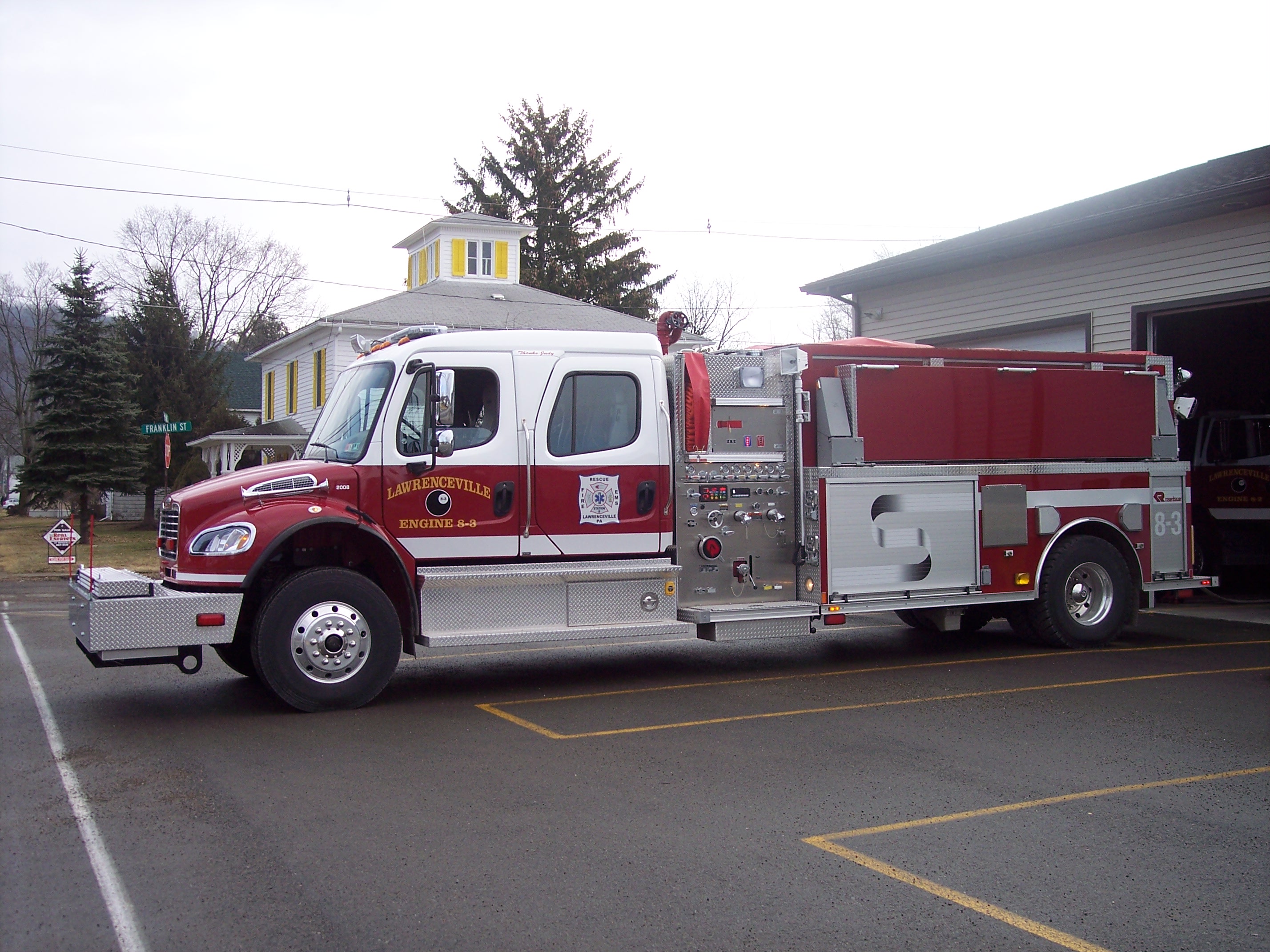 Engine 8-3 (Super Engine 8-3) is a 2009 Rosenbaur Pumper/Tanker. E8-3 is first due to fire emergencies and MVC's involving possible fire. It has a 2000 gallon tank, 10 gallon foam cell, 1250 gpm pump. It carries a 2100 gallon fold-a-tank, positive pressure ventilation fan, thermal imaging device, AED, EMS equipment, 4-gas meter, heat gun, wildfire equipment, (5) SCBA, and a full compliment of firefighting tools. Mounted in the front rescue bumper is a Hurst combination tool on a 200' reel, reciprocating saw, and (2) 200' electric reels. A portable hydraulic power unit and Hurst cutters are also on board. Hose includes 1100' of 5" supply line, (2) 200' 1.75" crosslays, 100' 1.75" trashline, 250' 2.5" attack line, and 300' of 2.5" supply line. Engine 8-3 was purchased with assistance from the FEMA fire grant which was awarded in 2007.
Patrol 8-4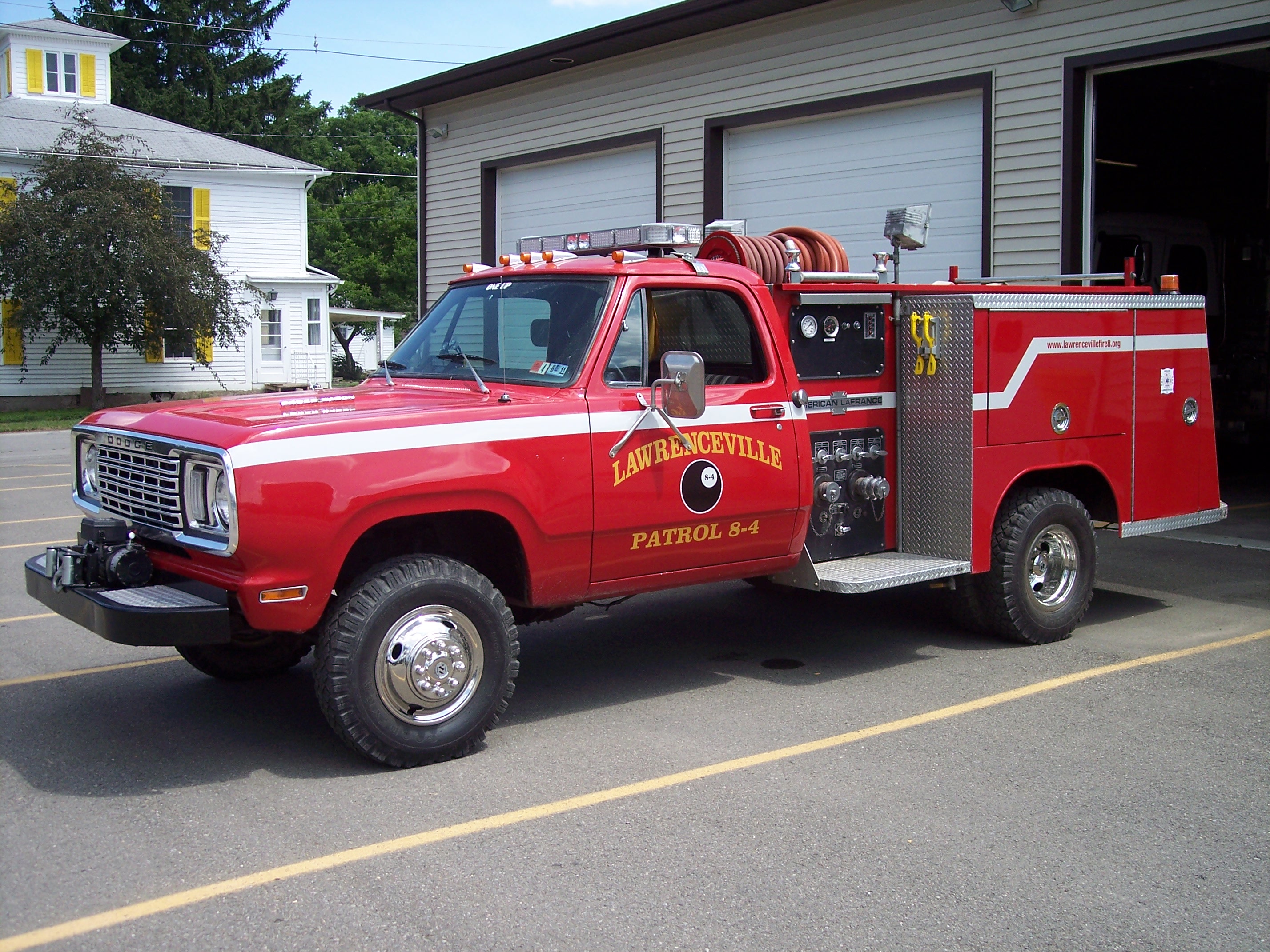 Patrol 8-4 is a 1977 Dodge Power Wagon 4-wheel drive brush unit made by American Lafrance. This carries all the wildfire tools such as back-pack bladder bags, rakes, shovels, and a chainsaw. It also has an 1.75" attack line and a booster reel. Patrol 8-4 was refurbished in late 2009 - 2010. The upgrades included body work, new paint job and decals (previously yellow), new LED warning light system, and booster tank repair.
Squad 8-18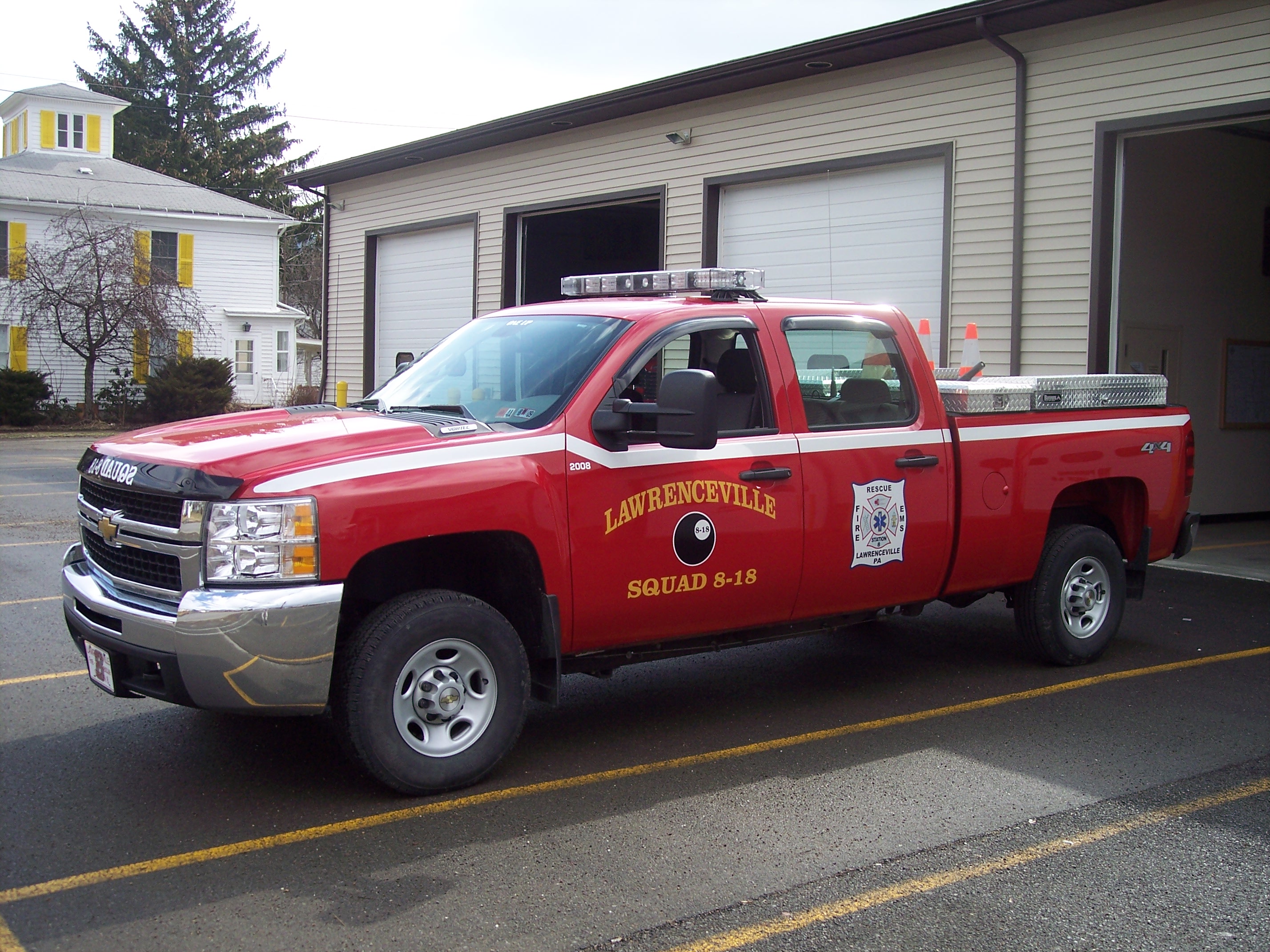 Squad 8-18 is a 2008 Chevrolet Silverado pick-up that was duly purchased by the Ambulance Association and the Fire Department. It is used for traffic control, EMS assist calls, and transportation of members to emergencies and non-emergencies such as training. It i It carries fire police supplies, a medical bag, AED, water rescue equipment, traffic cones, and reflective traffic signs. During wildfire season, the squad is outfitted a 10 gallon portable compressed air foam unit, indian tanks and rakes. It is also used for towing of the rescue boat.
Boat 8-28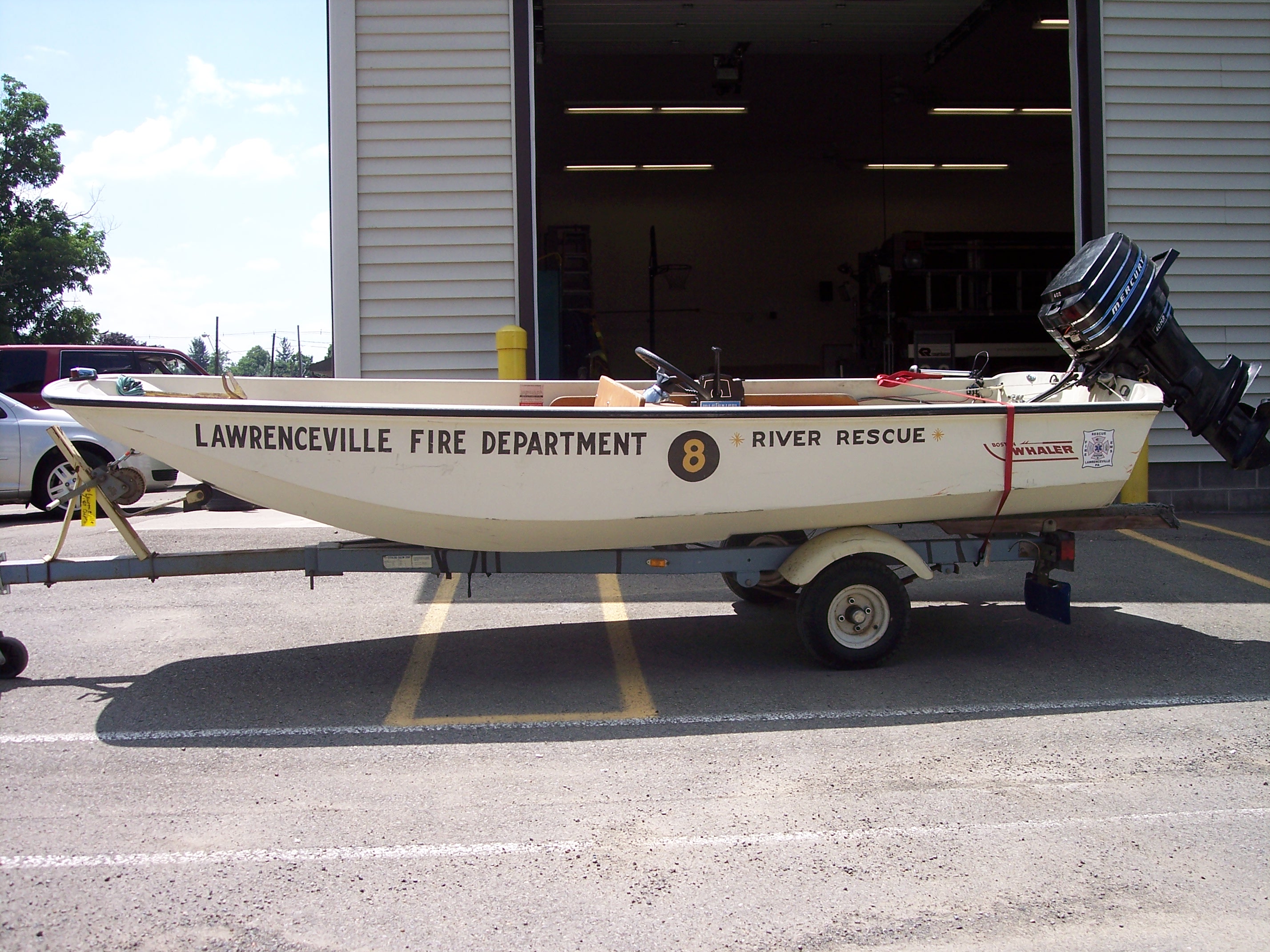 Boat 8-28 is a Boston Whaler flat bottom boat with a 40 horse power engine. It is capable of transporting up to 5 crew members.